Microbiology (MSci)

Diana Githwe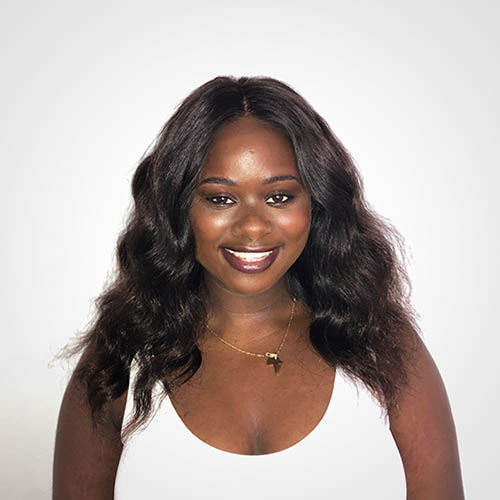 About Diana
I am a 22-year-old budding scientist, who was born in Kenya and raised in Scotland. I have just finished a 5-year MSci Microbiology course.
My passion for science extends into all aspects of healthcare and I endeavour to eradicate significant barriers and policies that negates the access of services that help people live healthier lives around the world.
I am incredibly pleased to say that my choice to study a science degree at Strathclyde was definitely the right choice and my quintessential experience will shape my future in a remarkable way.
Why did you choose to study at Strathclyde?
I was determined to apply for a science course when I entered my 5th year of high school and after researching all of the possible courses and Scottish university reputations in my field, I was set on Strathclyde being my first choice. The course struck me as modern, student-focussed and willing to mould well-rounded individuals ready to take on the graduate labour market, no matter what discipline someone studied.
What do you think about the University?
The university met and also exceeded my expectations. The teaching staff are excellent and very supportive both personally and professionally. In addition, Strathclyde is very well connected with industry leaders and partners in the wider Scottish ecosystem, enabling students to visualise their potential graduate prospects that might not be obvious in their chosen field. This is a fantastic culture to study in as I feel well equipped to explore any passion that I have.
Why did you choose to study Microbiology?
In high school, I was so engaged in biology and chemistry which resulted in very high grades. Achieving great marks in combination with my natural curiosity and passion for improving healthcare, led me to research about the biomedical sciences. Upon researching the course specification, a Masters in Biochemistry (which later changed to Microbiology) seemed like the perfect choice as I could investigate the what, the how and why of a variety of diseases.
What do you like most about your course?
The flexibility in the first two years to explore all 4 biomedical sciences (despite what you originally signed up for) was extremely useful. I gained a deeper understanding of my course material thus choosing to do a Joint Honours in Biochemistry and Microbiology and later specialising in Microbiology in my 5th year. This progression has benefited me immensely when applying for graduate positions.
I also appreciated the modern approach to my course as well as it was evident that the course material had changed and improved over time to cater to the 'scientists of today'.
What are you getting out of it?
Throughout my 5 years at Strathclyde, I have acquired a multitude of scientific skills and knowledge which enabled me to gain a Masters with Distinction but also, I have honed my interpersonal and soft skills – such as public speaking, teamwork, conducting individual research – which will allow me to flourish in any role in my future career.
What are your plans for after graduation?
For the next 4 years, I will be working on gaining a PhD at Newcastle University. After this, I plan to get as much experience as possible to equip me with the relevant skills and connections to work on bridging the gap between academia, industry and healthcare systems. Healthcare is multifaceted and when it's not working, it's due to a lack of connectivity and collaboration. I want to change the lives of many in this world who are burdened by a lack of access or expertise in healthcare, which should be a basic necessity in life.
What would you say to anyone considering coming to study at Strathclyde?
Go for it. You will learn so much more than your course material and meet incredible people along the way. Education and support with student learning are at the heart of the university, making it possible to achieve your greatest dreams and ambitions.