Civil & Environmental Engineering

Student site visits
Site visits are an important part of your learning. Visiting a real time construction project or design office allows you to develop a greater understanding of how civil engineering theory is put into practice.
A typical site visit will involve a presentation from the site team, a safety briefing and a tour of the project. It will give you personal experience of a construction site and exposure to the technical language used – and also the Scottish weather!
The visits also allow you to learn about project management practice related to health and safety, environmental issues and logistics management.
Our site visits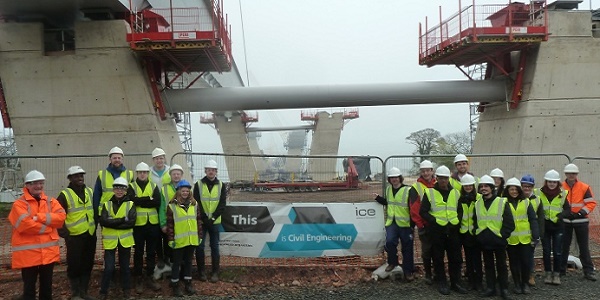 Queensferry Crossing: Host - Forth Crossing Bridge Constructors
This unique insight into what will be an iconic structure in the UK, if not the world. Having the chance to get up close to the bridge deck and even stand inside it made it a day to tell everyone! A moment in history that everyone will be jealous of! The engineer on the job managed to gain access for the students onto the bridge whilst work was still happening and for that I am very grateful!
Matthew Boyle, 2014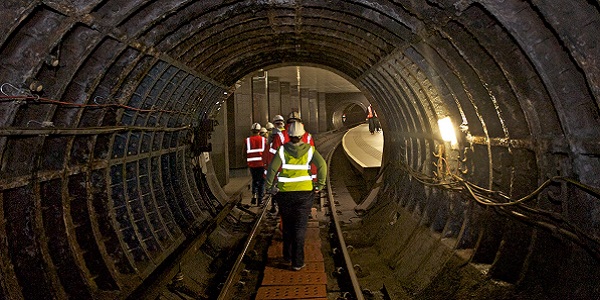 Glasgow Subway: Host - Strathclyde Partnership for Transport
I think it's a pretty big deal to get to experience things like this. I called my mum afterwards and told her all about it - she was fascinated. She didn't know how old the Subway is or about the wee boy who would pump the water out. This made me think about the subway advertisements. They could have like, 'did you know...' and facts about the subway system. I think people would find that pretty interesting.
Gillian Smith, 2014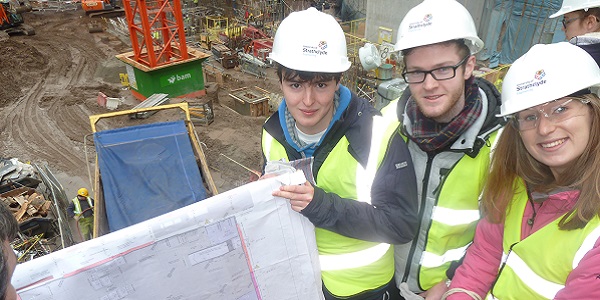 110 Queen Street, Glasgow. Host: BAM Construction Ltd
The site visit gave me a chance to see how a site functioned and how important it is to manage risks when thinking about building in a busy town centre. It would be great if in the future, when the site was nearing completion, or completed, if we were able to see how much it has changed since we last saw it.
Michael Kerr, 2014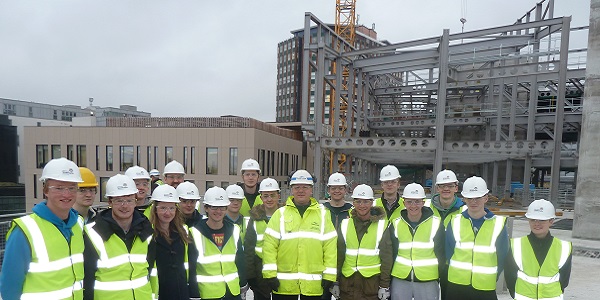 Technology & Innovation Centre (TIC) Glasgow. Host: Lend Lease
I thought that the presentation was great and I gained a lot of valuable knowledge about the building and site. Being able to actually enter and gain access onto the site and have a look around was very good, and I think I gained very valuable site experience that I wouldn't be able to get without this opportunity.
Robert Duncan, 2013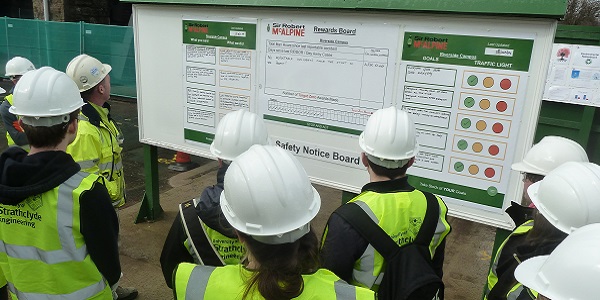 Riverside Campus Project Site Office. Host: Sir Robert McAlpine
I liked how the tour of the site was varied. We got the chance to look at what it is like to be a site engineer and how the different aspects of construction combine together on site. For example, how the woodworkers on site were preparing building materials and learning about how these would be used in the building. I particularly found the explanation of how the stairway would be fitted into the building to be very interesting.
Katiera Donnelly 2014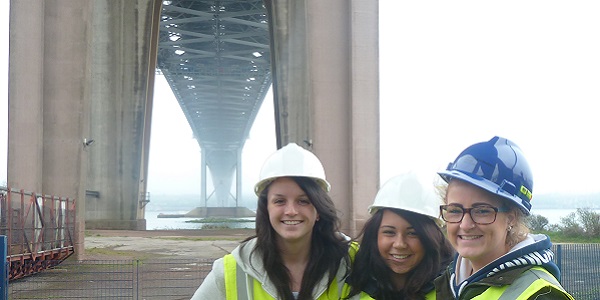 Forth Road Bridge. Host: Forth Estuary Transport Authority
I really enjoyed the visit to the anchorages as I hadn't thought fully into how the cables actually would be secured! I thought our host here was very enthusiastic and engaging and particularly enjoyed his anecdotes which made listening much easier.
Hannah Grainger 2014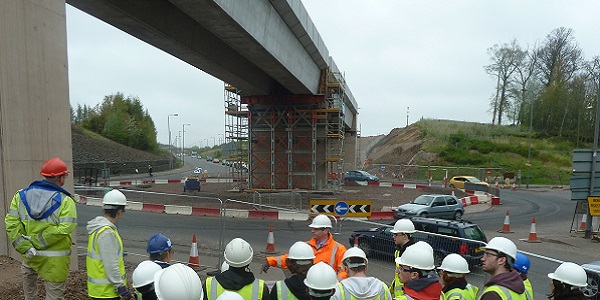 Borders Rail Project. Host: Bam Nuttall
The trip to the Borders was very insightful - to see how a Government decision (the 1963 Beeching report) can tear a community apart and also to see how historic infrastructures can be revamped to serve our current needs. These are the dimensions that are not often taught explicitly in a design class and would be very important to have an appreciation of as a young practicing engineer.
Joe Wong 2014