Head of Department of Industrial Design

Hao Wu
Why did you originally pick the University of Strathclyde as an institution?
There were four main reasons that I decided to study in the University of Strathclyde and the Department of Design, Manufacturing and Engineering Management (DMEM).
The University of Strathclyde has the largest engineering faculty in Scotland
The culture, view, history, etc. of Glasgow, and of course Scotland was fascinating to me
There was (and still is) an exchange student programme (signed agreement) between DMEM and SME (School of Mechanical Engineering) in Sichuan University. I was an undergraduate in Sichuan so it was the perfect opportunity for me
The course modules in DMEM were similar to those in SME, and Product Design Engineering (PDE) was my first choice!
Now that I am the Head of Department of Industrial Design at Sichuan University, I am able to incorporate things I learnt through my time in DMEM into the things we teach as well.
I loved both my undergraduate and PhD and due to the existing signed articulation agreement between DMEM and Sichuan I am constantly highlighting this as a study option for our students. Additionally I facilitate an annual trip in which DMEM academics visit my department and explain the variety of options available to our students, which often includes talks from Sichuan students who had previously joined DMEM for their degrees or International Summer School, to share their experiences.
Would you recommend studying internationally?
Yes of course I would definitely recommend it.
Studying internationally provides diversified integration, varied knowledge learning, cultural experience, language study and improved communications.
I enjoy talking with people from various culture backgrounds.
During my degrees in DMEM (MEng Product Design Engineering and my PhD thesis of 'Internet crowdsourcing for generative design'), the ability to experience different teaching systems provided me with a broader understanding and learning. This is still beneficial to my academic career now.
What was it like moving from China to Glasgow?
At the very beginning it was all so fresh -
The location of Strathclyde's campus is absolutely perfect. It is right in the city centre of Glasgow, close to George Square, Buchannan Street and the main train and bus stations.
The architecture, people, food and all of my surroundings were new. But then immediately, because of the different language and the way cultures communicate, as well as the practical teaching style being so different, it took some time to adapt into this new life.
If someone is interested in design, Glasgow is the perfect place to go. Victorian architecture, art museums, the memory of arts and design movements, and even a tearoom (i.e., Mackintosh's Willow Tearooms) can bring you a special feeling.
The cost of living is also at a more affordable level in Glasgow compared with other main UK cities for example, Edinburgh or London (which are far more expensive).
What was it like studying in DMEM?
The first (and stand out) impression of my degree was the learning experience, which was so different to back home in China, especially the industrial practice, for example the Product Design Development module. This module combined design learning and design practice, to allow students to collaborate with industry and gain real industrial experience. This provided students a practical thought on doing designs and during group work members learnt to better collaborate with each other.
The overall studying experience in DMEM was fantastic.
The department has a full set of facilities available for students, ranging from product design to engineering management to support teaching and research. The research community in the Leonardo Suite was so harmonious. Young researchers were arranged altogether, and a research report would be presented by one of them every month. Additionally, students could easily find the staff in the department if they had any problem, and the staff were always ready to help.
Below is a recent picture of myself, two DMEM staff members and a few Sichuan students who have also gone across to Scotland to study in DMEM. We were giving a presentation to other potential future DMEM students from China.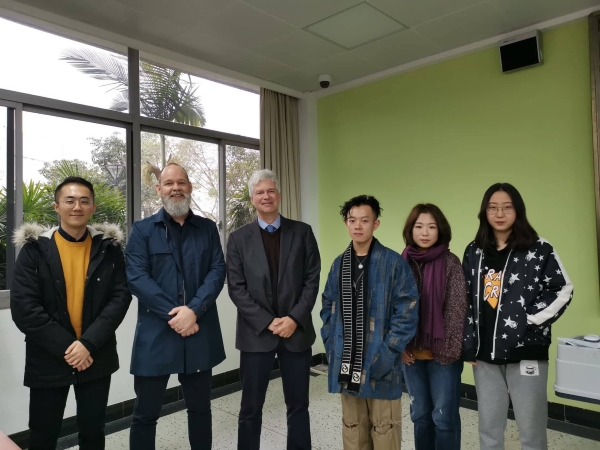 What key skills and approaches did you learn as part of your studies?
One of the main achievements I gained from studying in DMEM was learning the methods of doing research. Engineering studies could be treated as a general system, and in this system, the thinking of doing research was similar. And researchers in DMEM, they know how to inspired students to find out these methods and apply them in their own research.
Where has your career gone since you have graduated?
After graduating from DMEM I moved back to China and became an academic researcher, and a teacher in Sichuan University.
In this role face a lot of high pressure, for example through applications for research funding, and also teaching (but I do actually really enjoy teaching). Also, as Head of Department a lot of work on development and management has to be considered and integrated into my role.
What are your ambitions for the future?
That is such big question.
Well, one of my ambitions is to do well, and take things one step at a time.
When I was in DMEM, I always noticed that there were a lot staff enjoying sports, this always stuck with me, highlighting that this could be my most important task in my life - to keep healthy. The health is the most basic thing to support any job and living.
Why do you think engineering is an exciting industry to get into?
My way of thinking is engineering spans much broader than a lot of traditional preconceptions of what engineering is. For me, I truly enjoy creating designs so therefore engineering is exciting.
But today, engineering industries face big challenges, whether in China, the UK, or any other country in the world. Because of these challenges, we as engineers are happy to look for appropriate ways to help people live a better life.
Are you still in contact with anyone in DMEM?
Yes of course! DMEM has such a great community, it's a community you join for life.
Professor Jonathan Corney who was my PhD supervisor comes every year to visit Sichuan University where I work now and we always meet up. I'm also in contact with Professor Yi Qin who was my second supervisor and a good friend.
This year for example, Jonathan and Richard from DMEM came to visit Sichuan University and I took them around the area.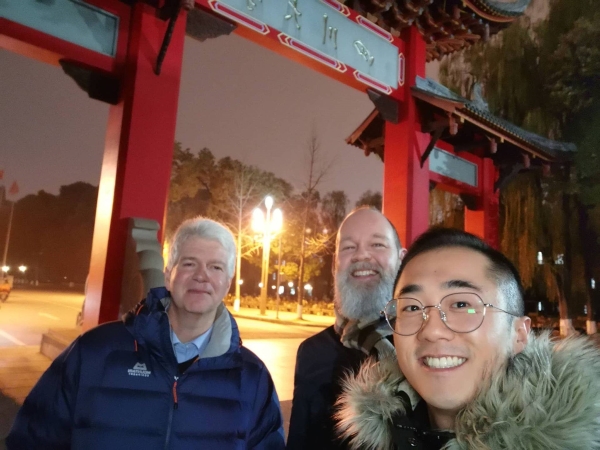 They also met some of the students in my department.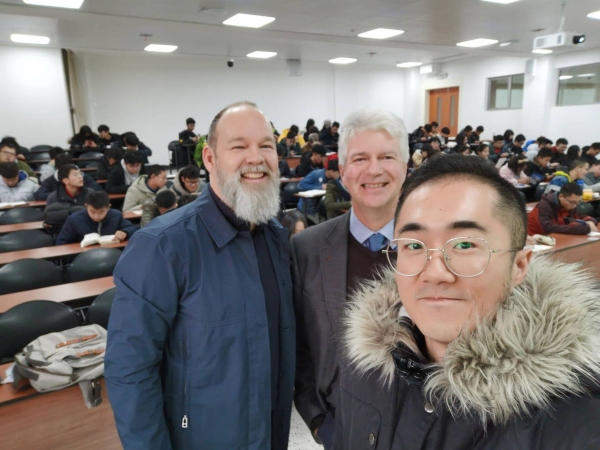 I have made so many friends in DMEM I can't list them all. Because I knew them when we were all students it's great to see their progression since graduation and some of them are even staff in DMEM now!
What would you say to someone considering studying in or working with DMEM?
Do it!
You have to study in DMEM, in Strathclyde University, and enjoy the life in Glasgow.