Product Designer, Inventor and Design Engineer

Stuart Pugh
Stuart Pugh was a design engineer, who graduated with a degree in Mechanical Engineering from London University. He moved into industry in a number of roles before beginning his academic career.
Pugh moved to Scotland and joined the University of Strathclyde in 1985 as the 'Babcock Professor of Engineering Design' and the Head of the 'Design Division' (this would later merge into the Department of Design, Manufacturing and Engineering Management when the Engineering Design, PMMT, Design Division, CAD Centre and the MSE unit all merged to become DMEM in 1989).

Pugh is well known for being the inventor of the Total Design methodology which creates a structured process for product design and development.
The Faculty of Engineering, as well as the departments of Architecture and Law, the MBA programme and industry, benefited from his notorious introduction of this revolutionary methodology. It was in the University of Strathclyde where Pugh produced his seminal book 'Total Design: Integrated Methods for Successful Product Engineering' (1990) and published his collection of papers to make his work readily available to design engineers and managers.
His untimely death from illness ultimately led others to complete Pugh's book 'Creating Innovative Products Using Total Design: The Living Legacy of Stuart Pugh'.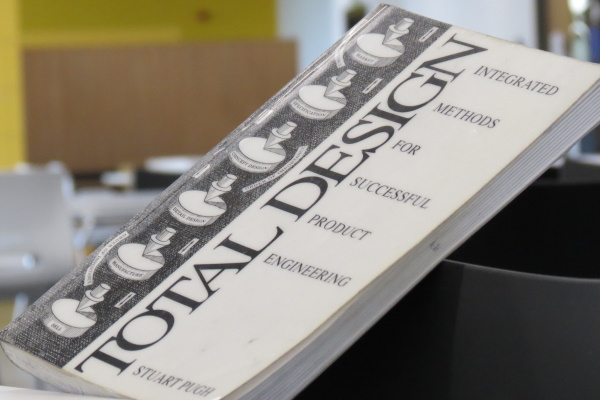 Pugh's collection of book publications includes:
We are proud to have had such a legend and pioneer to inspire and shape engineering and design globally, and particularly at the university. This driving force behind the importance that design plays later led to the merging of multiple functions to create our department. Stuart Pugh was a visionary, whose development of the concept and technique of Total Design remains relevant to this day, and continues to inspire our staff and students throughout their teaching and further research.