Holly Dixon: Product Design in DMEM
Holly Dixon
BSc Product Design and Innovation, MSc Product Design
What made you look at the University of Strathclyde as an institution option?
I had always been interested in Strathclyde due to its reputation in engineering. I liked the idea of studying an engineering-based course but was also considering going to art school and focusing solely on design.
I chose Strathclyde because it provided me with a good link between the disciplines. I had the opportunity to focus mainly on design, while incorporating engineering factors and principles into my work.
It was also a bonus that I am from Glasgow and got to stay at home, which made things logistically easier for me, especially as the campus is so central.
Why did you choose to study your course?
I completed my undergraduate studies here in DMEM in BSc Product Design and Innovation.
I really enjoyed the course. It gave me the ability to produce a wide variety of products and services and develop skills in design, manufacturing, engineering and management. There was always a big focus on designing for a purpose, not just making commercial, aesthetic products.
After graduating, I was unsure what to do. I was eager to go straight into industry but was unsure of which design field to focus on. I also knew I wanted to push my education and gain a master's degree.
Based on my undergraduate experience, I knew DMEM was a great department to study in and the MSc Product Design course was a good fit for me.
It has allowed me to continue to explore various areas within design through a range of projects, increase my understanding of design principles and whilst allowing me to specialise in aspects I am most interested in such as sustainability and human centred design.
What is it like studying in DMEM?
I really enjoy studying within DMEM. I can't get work done at home as there are too many distractions so I spend a lot of time in the department. I mainly work from the dedicated postgraduate room which is calm, focused and comfortable. The space is fitted with desks, group work areas and meeting rooms. Depending on my mood and what I'm working on I also use the undergraduate studio which is lively and busy.
At both undergraduate and postgraduate level, everyone is very friendly and there is a strong feeling of community. This is probably due to group work and collaboration being a large part of all DMEM courses.
The staff are very helpful and always around to help and give advice, whether this is formally in meetings or when running into them in the corridor.
What does your Postgraduate Group Project entail?
My PGT group project involves working with Unilever, Pot Noodle. We are developing an automated method for assembling pots onto the production line. We also been tasked with finding and implementing a returnable packaging solution into their process.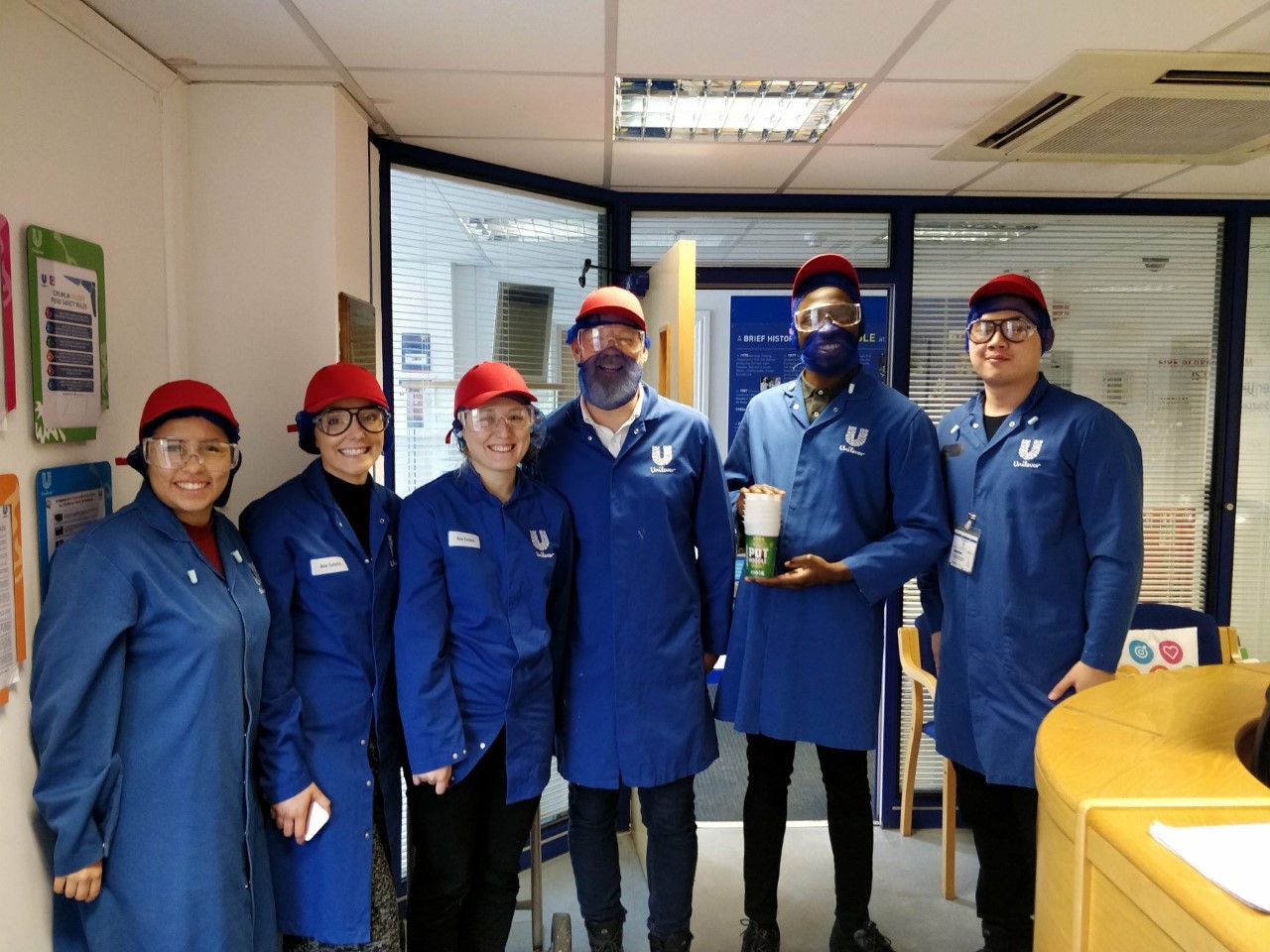 What do you think you will benefit from doing a Postgraduate Group Project?
While the product is not specifically design related, I have had the opportunity to work in a group with a variety of backgrounds including members studying mechatronics, engineering and manufacturing. This has allowed me to learn about different disciplines and provide me with a practical example of how to integrate my skills into a realistic collaborative team.
It has been interesting and has been a great opportunity to experience working to a client brief. It is exciting to be involved in a project which may be implemented into industry, something that I can mention when interviewing with future employers.
The project has allowed me to have a realistic understanding of how my studies can be translated to industry.
What are your ambitions for the future?
My postgraduate year has helped me to decide I would like to focus on furniture design. I would love to work within an architecture or interior firm, designing products for specific locations. I have discovered an interest in sustainability and would love to work within an environmentally conscious organisation.
I enjoy exploring all aspects all the design process and would like to work in a small-scale company in order to have control and influence on large design decisions and stages.
Would you recommend studying in DMEM?
I would highly recommend studying within DMEM. I have studied here for 5 years now and have enjoyed each one of them.
I've had opportunities to experience a wide variety of projects, work within many disciplines, make lots of friends and to top it off will have a highly regarded degree at the end of it all!
Student profiles