MEng Product Design Engineering

Laura Veitch
Why did you choose to study in the Department of Design, Manufacturing & Engineering Management (DMEM)?
I have always been curious as to how things work and how they are created. I'm also very creative.
DMEM allows for their students to explore what they are passionate about whether that is design, manufacturing, management, or engineering. The combination of all of these has given me a broad comprehensive knowledge, which I believe has made me a valuable candidate for many future jobs.
It has broadened my horizons and made me a diverse individual.
Initially when applying to the department what caught my attention was the range of disciplines within the department. I was not sure what area of work I wanted to go into, but the department was so diverse it motivated me to learn about areas I was unsure of.
Which resulted in me choosing my course, MEng Product Design Engineering.
Why did you choose to study your course?
Art and Design has always been a passion of mine from a young age, due to its relaxing nature and endless ways of expression. However, when I was in secondary school I started to enthuse about things from a more technical perspective. The contrast of the precision in engineering and its detail in correlation to provoking thought and being expressive, I found invigorating.
I chose to study Product Design Engineering because I felt it captured both the technical/engineering side and creativity.
The thought of designing products initially baffled me as I always thought it would be impossible, but it was a dream to design my own. Now in my master's year, I'm so proud of the work I have created and the achievement of winning the SISA Gold Student Award for one of my inventions.
What have been the highlights of your course to date?
In year one, students are introduced to designing products through a group project. As the years mature the projects advance into 'Individual projects'. Creating a product every year has been a highpoint to my degree. The differing briefs have allowed me to identify which products I enjoy designing the most and why.
In 3rd year I undertook a semester exchange to Melbourne in Australia.
While I was studying in Melbourne I was involved in Swinburne's formula motorsports team. Within the team I redesigned components of the race car for an international competition. Liaising with corporate companies for manufacturing the components and sponsorships exposed me to new industrial skills.
When abroad I also experienced working solo with a company to incorporate their technology into a Tesla electric car. This corporate experience is also supplied to 4th and 5th year students in DMEM, which really prepares us for industry.
Overall, being outside of my comfort zone, in a new place was the best experience I could've asked for as it made me develop personally as well as professionally. The exchange opportunity was an appealing aspect to DMEM which I worked hard to achieve.
The past 4 years within DMEM have been a highlight within itself, working closely with the staff, fellow students and visitors.
The studio is another attractive element to the department. It is an area that allows for socialising across different years and programmes, learning daily from one another. It has made my time studying within DMEM more enjoyable.
Can you tell us about your award?
I was one of five successful students in Scotland to be awarded a Gold Award for my innovative 4th year 'Individual Project' idea. The project's focus was 'Aiding the elderly in exiting a vehicle'.
The Scottish Institute for Enterprise (SIE), SISA Gold Award is designed to support Scotland's most innovative students, helping them to design their own rewarding future career in Scotland. The award was presented at the parliamentary reception in Holyrood, Edinburgh. The winners received mentoring and support from SIE and the Innovation Centres (DHI, CENSIS, Datalab) as well as access to IC events and to their networks.
I was made aware of SIE from attending a workshop organised by DMEM, held by SIE's Enterprise Programme Director, Ann. DMEM further organised several visitors, exposing students to expert opinions regarding their projects. This is where I met SIE's Senior Business and Innovation Advisor, Jonathan who informed me of SIE's workshops. The workshops entailed gathering new ideas and pitching them within teams, on a tight timescale. SIE members were also available to discussion any personal projects confidentially.
Having been successful in the workshops, I was invited to Loch Lomond for a three-day intensive course with 9 other successful candidates; refining our ideas and pitching them in a competition for monetary awards. I did not win an award. However, the experience was phenomenal and has made me more confident within myself, my knowledge and my capabilities. I got to meet inspiring entrepreneurs, hear their experiences and enhance my networking skills and expertise.
Winning the award has made me believe in myself and not give up. It has awarded me with unbelievable experiences and has exposed me to a new innovative network which I will not relinquish. I furthered my knowledge in areas of thinking long term and future innovation. I will continue to do so when applying for further competitions.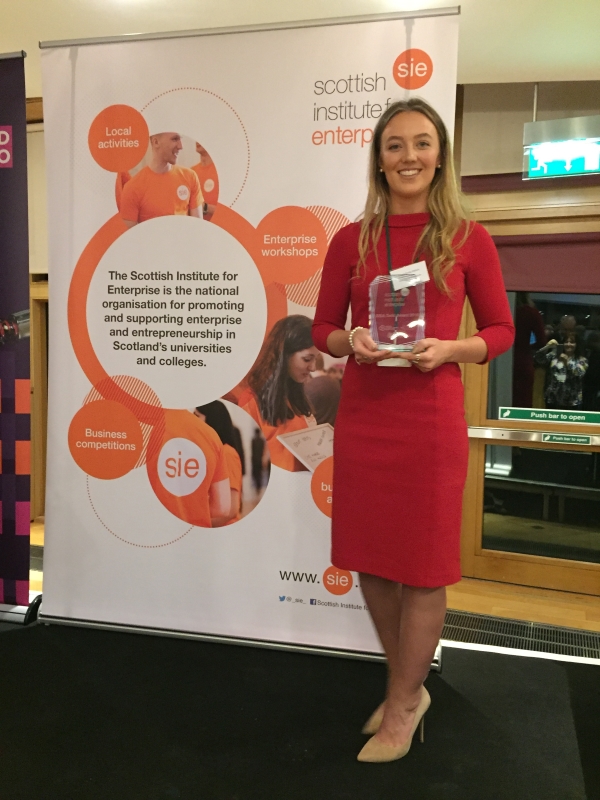 What are your ambitions following the completion of your course?
I would love to use my imagination and passion for designing products to one day have one on the market. I would equally love to work at a company which follows innovation first hand, whether this be within the automobile industry, furniture, appliances or technology.
What advice would you give to someone considering coming to study at DMEM and the University of Strathclyde?
If you're unsure what you want to study and have a passion for design, engineering, manufacturing or management, DMEM is for you.
The possibilities and experiences available through the different electives and classes allow students to make their degree their own and strive for what they are passionate about.
Additionally, Strathclyde University as a whole has endless opportunities, as I experienced from studying in Australia. They are also well involved with corporate companies and competitions giving students the best opportunity to strive for their goals.