University of Strathclyde Eco-Vehicle Team secure Farnell sponsorship
The University of Strathclyde Eco-Vehicle (USEV) Team are very happy to have secured a sponsorship with Farnell to aid them in the manufacturing of a highly efficient electric prototype vehicle to compete in the Shell Eco-Marathon Europe this July.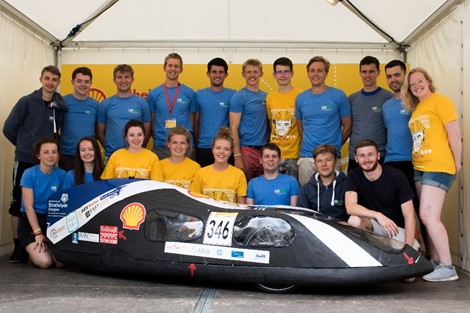 USEV team at the Shell Eco-Marathon 2018
The competition brings together universities from across Europe with the aim of producing a car which travels the furthest on the equivalent of 1 Litre of fuel. After completing a total of 21 laps of the track at last year's Eco-Marathon with a peak efficiency of 2700MPG-equivalent, USEV are aiming higher still.
Their design this year features a bespoke DC motor powered by a 36V Lithium-Ion battery and motor controller which were designed and built in-house. Mechanically, the vehicle is constructed using aluminium extrusion bars, onto which the Carbon Fibre shell is attached. As they approach the midpoint of the manufacturing stage, confidence is high that the car will be ready to take on the Eco-Marathon and continue to climb up the leader board.
Farnell are greatly helping the team as Electronics begin to populate custom Printed Circuit Boards (PCBs). As one of the world's biggest electronics distributors, they have bases in Europe, North America and Asia, and a supplier list spanning across the globe. They have kindly agreed to provide the team with electronics parts which are already being used within the Powertrain, Telemetry and Electronics Distribution Systems development teams.
They will also provide access to the element14 community, which connects a worldwide network of over half a million engineers, hobbyists and other innovators, providing an engaging platform for the exchange of expertise.
Access to this community presents an opportunity for USEV to interact with and gain advice from a host of engineers with backgrounds in a range of sectors. The team are looking forward to taking part in this exchange of knowledge and ideas, which will no doubt greatly benefit them in the run up to the Shell Eco-Marathon.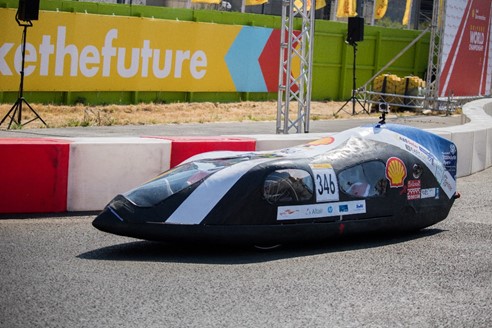 On track at the Shell Eco-Marathon 2018
If you are interested in finding out more about the team, visit our website: www.usev.co.uk or contact us at usev@strath.ac.uk. You can also check out our social media!
Facebook - @USEVTeam
Twitter - @usecovehicle
Instagram - @usecovehicle