Naval Architecture, Ocean & Marine Engineering

NAOME student received SSE Renewables MSc Scholarships
SSE Renewables sets up MSc Scholarships for University of Strathclyde students
Renewable energy developer SSE Renewables has awarded MSc scholarships to two students who have recently started their studies at the University of Strathclyde in Glasgow.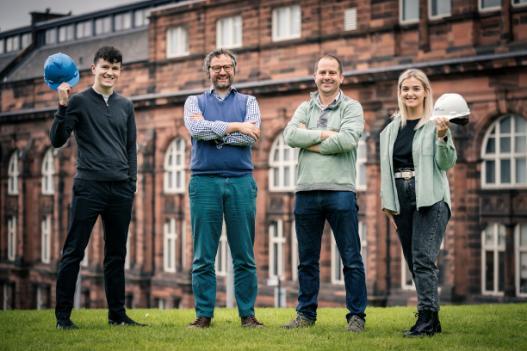 Photo caption: (From left to right): New MSc student Kenneth MacSween celebrates his scholarship with Dr David McMillan, University of Strathclyde, Andy Lewin, SSE Renewables, and fellow awardee Skye Francis
Skye Francis aged 22 from Fraserburgh, Aberdeenshire and Kenneth MacSween, aged 24 from Stornoway, Isle of Lewis received the scholarships after being chosen from a number of prospective candidates. Following their success, Skye is now embarking on an MSc in Offshore Wind Energy while Kenneth is studying for an MSc in Wind Energy Systems.
Skye said:
"I'm so pleased to have been awarded this scholarship. Offshore wind is a growing industry and once I have completed my MSc, I want to work on one of the major projects either currently in construction or on the horizon. It is such an exciting time for offshore wind power and renewable energy in general."
Kenneth said:
"I'm focusing my studies on the developing technology which is used on wind farms. It is an area that is developing continually so it is an exciting time to be studying for this MSc. I'm really grateful to SSE Renewables for this support."
Both Skye and Kenneth will be assigned a mentor from within SSE Renewables who will support them throughout their studies, providing a link to the industrial application of their learning and helping guide them through their MSc projects.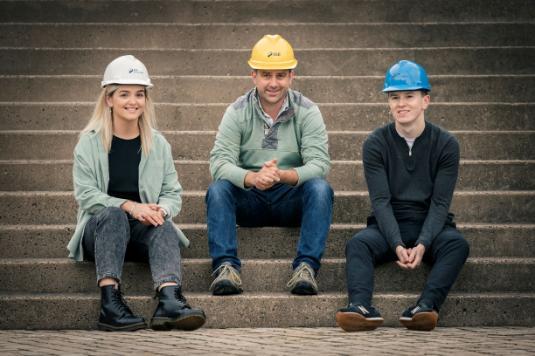 Orla Grant, Head of Engineering – Design and Delivery at SSE Renewables said:
"We are thrilled to support this initiative and look forward to working with Skye and Kenneth this year to link their MSc learning and projects to an industrial application."
Andy Lewin, Project Director for Floating Wind at SSE Renewables met with Skye and Kenneth to celebrate their scholarships. He said:
"We're building more offshore wind than anyone else in the world right now so we're keen to make a commitment to the next generation of wind energy professionals who will undoubtedly make a valuable contribution to the burgeoning renewable energy sector. On a personal level, I am very pleased for SSE Renewables to be supporting Skye and Kenneth's studies. It is great to see their enthusiasm and I have no doubt that they will do well in their future professional endeavours."
Orla Grant, Head of Engineering – Design and Delivery at SSE Renewables said:
"We are thrilled to support this initiative and look forward to working with Skye and Kenneth this year to link their MSc learning and projects to an industrial application."
Co-Director of MSc Offshore Wind Energy at the University of Strathclyde, Dr David MacMillan said:
"It is great to see SSE Renewables supporting two of our students in this way. We see Strathclyde playing a key role in the supply of outstanding graduates with the right mix of skills, ready to make their mark in the wind energy industry. We hope to continue building very strong links with our industrial partners to ensure that the next generation of wind projects are in good hands."