Naval Architecture, Ocean & Marine Engineering

Marine Engineering Laboratory
The marine engineering laboratory houses a diesel engine test-bed in a soundproof cell. It also has a set of test rigs for heat-exchanger and flow-control performance assessment.
We also have a separate workshop for students to use where they can construct models for design and build projects.
The laboratory is located in the Henry Dyer building.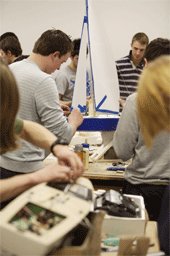 We're home to the largest ship-model experiment tank in any UK university