Celebrating the success of our students
On 10 November, we were delighted to host our first in-person award ceremony since the pandemic. We celebrated the achievements of our undergraduate and postgraduate students together with their guests and the various sponsors of prizes. Thomas Ross KC of Benchmark Advocates delivered an oration on the night, and we are grateful to him and all the other sponsors of the event for making it such a successful evening.
We also recently celebrated our autumn graduation ceremony on Thursday 3 November, with law graduates being awarded LLB degrees and postgraduate diplomas, LLMs and PhDs. One such graduate was Thanyanuch Tantikul, who was a PhD student with our Centre for Law, Crime & Justice. You can read about her story on the CLCJ's website.
Also on 3 November, an honorary degree was conferred on our alumna, Marion Venman (General Counsel and Secretary to the board of ScottishPower). Details of her award and the other honorary degrees conferred at Strathclyde's recent graduation ceremonies can be found on this university news update.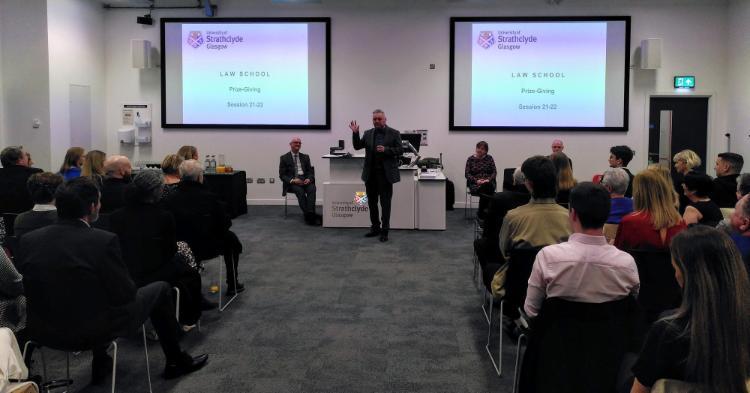 Thomas Ross KC speaking to the audience at the awards ceremony, with our Professor Kenneth Norrie, Professor Claire McDiarmid and Dr Douglas Jack seated behind him.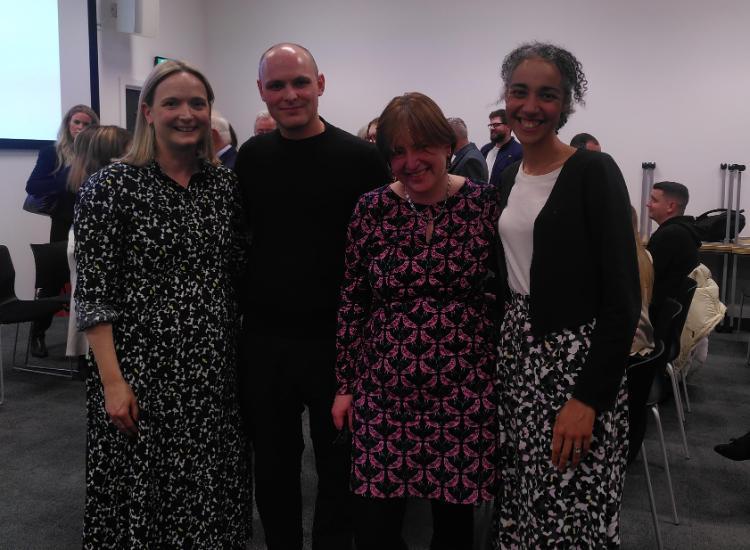 l-r Katy Nisbet (one of our prize winners), Dr Douglas Jack, Professor Claire McDiarmid and Dr Elaine Webster.