Mediation Clinic Winners at Scottish Legal Awards 2021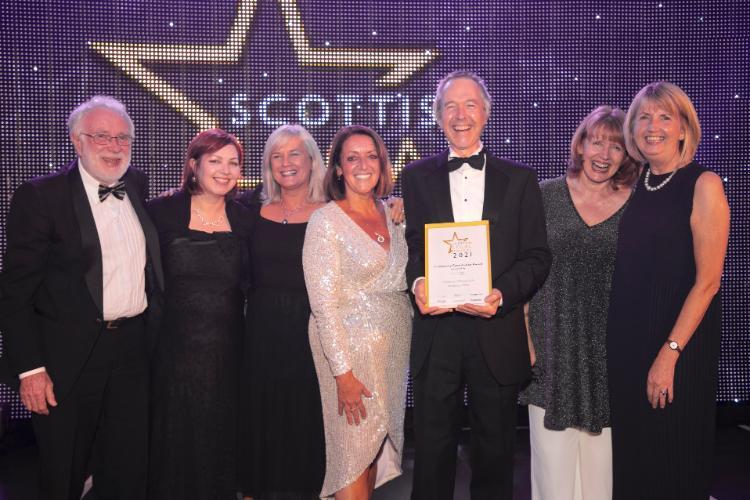 At the (literally) glittering awards dinner in Glasgow's Hilton Strathclyde Mediation Clinic won the 2021 Community Contribution Award. In presenting the award Scotland's legal profession has recognised the respect in which the Clinic is held and the unstinting work of its volunteers. Against stiff competition from major law firms the judges praised the Clinic for making a real difference, with limited resources, in supporting access to justice for the communities it serves.
The award praised the Clinic for the quality of its work and the clear satisfaction of consumers and judiciary. Responding speedily to the pandemic the Mediation Clinic moved all its services online and is now providing mediation under Simple Procedure rules in 18 of Scotland's sheriff courts. The Mediation Clinic was launched by Sir Jim McDonald, Principal of University of Strathclyde, in 2013. It enables students and experienced mediators to work together to provide a free small claims mediation service and forms part of Strathclyde's distinctive LLM/MSc in Mediation and Conflict Resolution.
Head of the Law School, Prof Claire McDiarmid, said:
When the Mediation Clinic won an equivalent prize at the Scottish Legal Awards 2020, I noted then that everyone at the school was extremely proud of it. This remains the case and we congratulate its Director Charlie Irvine and the rest of the team on securing this award, which serves to recognise all the great work that they do.
Details of the event and its sponsors, together with further photographs, can be found at Scottish Legal Awards' website.