Strathclyde Centre for Antitrust Law and Empirical Study

Latest Outcomes from our Work
We wish to share our research findings in a variety of ways to reach out to different audiences. We publish academic books and articles, but also try to make our research available in a shorter and more accessible way for stakeholders (policy-makers, practitioners, etc) through shorter publications. We welcome comments and suggestions from colleagues and stakeholders.
Recent publications include:-
RODGER
A panacea for competition law damages actions in the EU? A comparative view of the implementation of the EU Antitrust Damages Directive in sixteen Member States; Rodger, B. J., Sousa Ferro, M. & Marcos, F.,:2019 Maastricht Journal of European and Comparative Law.
Application of the EU and Domestic 'Antitrust' Prohibitions, Domestic and EU: An Analysis of the UK Competition Authority's Enforcement Practice; 2019 Journal of Antitrust Enforcement.
Transposition of the antitrust damages directive: critical observations; Rodger, B., Sousa Ferro, M. & Marcos, F., In : CPI Antitrust Chronicle. 2, 1, 6 p.
Marcos, F., Rodger, B. & Sousa Ferro, M., 25 Aug 2018, (Unpublished) Rochester, NY.: SSRN, 42 p.
Promotion and Harmonization of Antitrust Damages Claims by Directive EU/2014/104?
Rodger, B. (ed.), Sousa Ferro, M. (ed.) & Marcos, F. (ed.), 20 Dec 2018, Oxford: Oxford University Press. 544 p,
The EU Antitrust Damages Directive: Transposition in the Member States
Convergence and divergence within the EU's supranational competition law framework: norms, enforcement rules and prioritisation in the United Kingdom and Ireland, Rodger, B. J. & Lucey, M.C. in The Regionalisation of Competition Law and Policy within the ASEAN Economic Community,.Ong, B. (ed.). Cambridge: Cambridge University Press, p. 236-270 35
2017 10(3) Global Competition Litigation Review 128-144
Competition law private enforcement in the UK courts: case-law developments 2013-2016
ANDRIYCHUK
Oles Andriychuk '(Why) Did EU Net Neutrality Rules Overshoot the Mark? Internet, Disruptive Innovation and EU Competition Law & Policy', Yearbook of Antitrust and Regulatory Studies, Vol. 11, No. 2, 2018, pp. 227—239.
Oles Andriychuk, 'The Normative Foundations of European Competition Law Assessing the Goals of Antitrust through the Lens of Legal Philosophy', Edward Elgar, 2017, 360pp
WANG
Wang, J., 'A Maze of Contradictions: Chinese Law and Policy in the Development Process of Privately Owned Small and Medium-Sized Enterprises in China' (2017) 3 Michigan State International Law Review 491-554
Recent highlights:-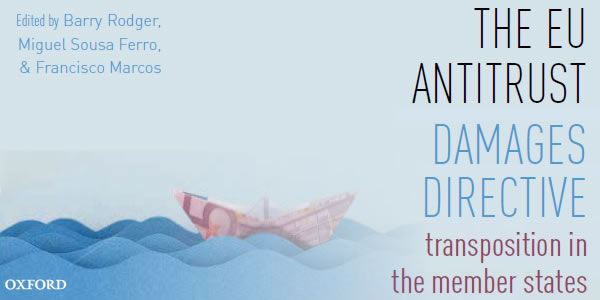 The EU Antitrust Damages Directive, Transposition in the Member States
Prof Barry Rodger (co-editors Prof Miguel Sousa Ferro (University of Lisbon), and Prof Francisco Marcos (IE University, Madrid)
This book, published in December 2018, makes a significant and original contribution to the literature on the developing area of private enforcement of EU competition law. It delivers a significant, rigorous and comprehensive analysis of the transposition across a broad selection of Member States (MS) of a major EU Directive introduced with the aim of harmonising and facilitation competition law damages actions across the European Union. The book seeks to review and analyse the implementation of the Antitrust Damages Directive. It analyses the transposition of the Directive into national law firstly from a generic EU law implementation perspective, considering the MS processes followed in implementing this EU Directive. The book also looks more specifically at the national debates and their consequences for the substantive choices adopted in terms of implementation of the various Directive provisions.
Part I discusses the background to private enforcement and outlines the Damages Directive aims and key provisions. Part II contains 16 chapters containing each of the national reports on transposition of the Directive across the selected 16 MS. Part III provides a comparative analysis of the national reports, a critical assessment of the Directive's implementation and concluding remarks. This significant contribution to an area of contemporary academic debate and practical importance was undertaken with 2 co-editors (Profs Miguel Sousa Ferro and Francisco Marcos) and expert rapporteurs for each of the 16 selected Member States.
Andriychuk
The main argument of this book is that the economic (alongside political and cultural) aspect of competition constitutes the essence of democratic governance and as such should be treated as an autonomous political goal. It should not be always subordinated to the benchmark of efficiency or any other economic value, by which we often evaluate the performance of competition policy and even define its legitimacy. The book explains why competition deserves its regulatory protection not only when reliable evidence of its positive economic impact exists. It argues that the current trend of narrowing down the category of competition to its economically beneficial outcomes exclusively is conceptually confusing, methodologically misleading and ideologically wrong. Competition by definition implies such subjective elements as spontaneity, unpredictability, contest, rivalry and luck. It would be naïve to argue that any sustainable economic governance can rely solely on the rationale of the invisible hand. Yet it is also naïve to attempt to transform the whole spectrum of competition's attributes to the measurable yardstick of economic calculus. The argument is investigated from various points of view. The book starts with chapter (1) tracing the evolution of economic thoughts on competition; (2) showing when exactly (and why) the dominant neoclassical perception of competition overshot the mark; (3) consulting other disciplines (namely, philosophy and legal theory) in the search for a concurrent noneconomic theory of (economic) competition; (4) comparing the economic incarnation of competition with its political and cultural incarnations; (5) putting forward a normative hypothesis, which consolidates current European competition law with the philosophical theories of competition and its jurisprudential apparatus; (6) smoothing most of the regulatory turbulence emerging from such a proposal by exploring the mechanics of balancing; (7) demonstrating its practical implications.
Wang, J., 'A Maze of Contradictions: Chinese Law and Policy in the Development Process of Privately Owned Small and Medium-Sized Enterprises in China' (2017) 3 Michigan State International Law Review 491-554, (PHOTO ANNEXED) in which she analysed the lack of legitimacy of China's Competition Law, and the Law / Policy disconnection, from the perspective of privately owned SMEs