Our graduates

Aishah Ali, PGDE Chemistry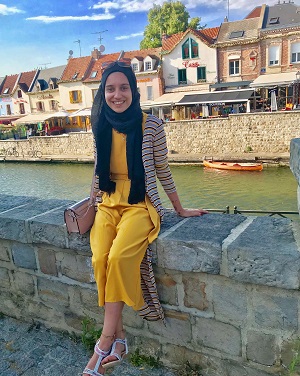 Tell us a little bit about your background…
I was born and brought up in Glasgow. Throughout school I was always interested in science and maths and decided to pursue a career in science via studying chemistry at the University of Glasgow. At the end of my degree I applied for the PGDE at Strathclyde and 2 years later I have just finished my probation year.
Why did you decide to become a teacher?
I, as many children do, always wanted to be a teacher. However, as I grew older the idea faded and I was keen to work in a science laboratory after finishing university. During my final year at the University of Glasgow I became a science ambassador which meant I travelled to local schools and ran science clubs. This sparked my interest in working with children again. I then took on a highly rewarding six week placement whilst at university where I worked in a special needs school. These positive experiences led me to apply for the PGDE at Strathclyde and I have never looked back.
Did you have a favourite teacher when you were at school?
Yes, doesn't everyone. My favourite teacher was Mrs Martin my maths teacher. I was lucky enough to have her for the majority of my six years in school. She taught me to believe in myself and made every lesson throughout those six years engaging and fun. I often think of her and her teaching and try to reflect it into my own practice. My chemistry teacher Mr Hughes was my biggest inspiration and I often still turn to him for advice.
What advice would you give to someone considering studying the PGDE at Strathclyde?
I cannot recommend social media enough, the Facebook groups allowed me to interact with people in same position as me as well as being able to ask people who had just gone through the process. I would definitely get work experience in a school beforehand. My placement school was able to answer any questions I had as well as providing me with a reference.
Also don't forget everyone wants to see you doing well, don't be afraid to ask for help.
What did you learn during your placements?
Everything!! It's true what they say, you can learn the theory and attend the lectures but until you are in the classroom you haven't experienced teaching.
Placements are where you can put all you have learnt into practice, it allows you the opportunity to develop as a teacher, build positive relationships and work with really talented members of staff. It is very tiring and challenging but also extremely rewarding and beneficial.
Where are you working now?
I am currently working in a large school in Glasgow City Council. I am fortunate to have built a great network of support from teachers both in my placements schools as well as the teachers I shared the PGDE with.
What is the best part of your job?
No two days are the same. It is a very challenging job but it's also the most rewarding. The positive relationships you make with pupils and investing in their future is the best part for me.
What are your ambitions for the future?
No one knows what tomorrow will bring, but for now I am more than happy at the school I am at.
Any final points, or words of wisdom?
Teaching is not for everyone, I would try and get as much experience as you possibly can. But if you are passionate about young people and inspiring young minds - this may be the job for you.
Oh and also ask for help when required. The lecturers and teachers are lovely and genuinely want you to succeed.