Our graduates

Alan Smith, PGDE Psychology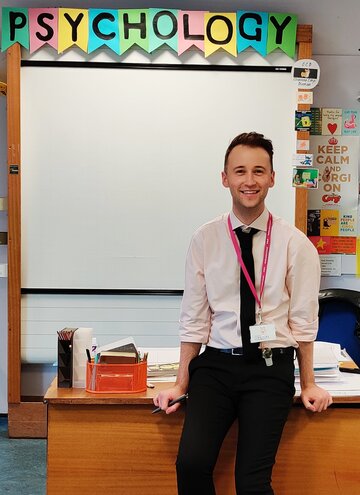 Tell us a bit about your background...
I was born and bred in Renfrewshire which is a local authority on the west coast of Scotland. I went to Johnstone High School and completed Highers in English, Modern Studies, Religious Moral and Philosophical Studies, Music and Drama. From school I enrolled in a Social Sciences degree with the University of the West of Scotland where I qualified in 2015 with a single honors degree in Psychology. After working in the aviation sector for three years – I was successfully accepted to join the second ever cohort of Psychology PGDE students at the University of Strathclyde. I graduated from Strathclyde in 2018 and started my career as a teacher.
What inspired you to become a teacher?
A lecturer at UWS who now lectures at Strathclyde University suggested the PGDE in Psychology to me. Working with children was something I had done previously in a part time capacity at an extra-curricular stage school. I hadn't thought about studying to teach in Education. However, I really trusted my lecturer's opinion and the more I thought about her words "have you not realized you're meant to be a teacher yet?" the more I realized I was suited for teaching.
Did you have a favourite teacher when you were at school?
Mrs Harris my Pastoral Care Teacher was by far my favourite teacher when I was at Secondary school. She is everything I strive to be as a teacher now; caring, nurturing, firm but fair and truly passionate that all pupils do well.
Why did you select the University of Strathclyde?
I chose to study at Strathclyde as they are the institution that is pioneering in Psychology Education. The work they have done to help grow Psychology is outstanding and I was pleased to be a part of this step in the right direction for our school's curriculum.
What did you learn during your placements?
I think the element of placement that struck me the most is that schools have changed greatly in the 8 years that I had been away. I could see that pupils now have a whole array of problems that they need to face that my generation didn't need to contend with. The school, in some ways, also seems a lot safer for the younger generation. A lot of them find school a safe space away from their home life and groups like Nurture rooms and LGBT groups make the community far more inclusive than what previous generations lived through.
What would be your advice for people considering taking the PGDE course at Strathclyde?
If it's something that you have your heart set on, then go for it. If you want to make a difference in children's lives and you want to inspire them to love your subject like you do, then you are getting into it for the right reasons.
Where are you working now and what is the best part of your job?
In a surreal turn of events, post the PGDE, I was placed in my old high school that I attended as a pupil. My classroom I teach in actually used to be my English classroom in S2! As bizarre as this was to begin with, I now feel very much a part of the school and that my childhood memories have been replaced with teaching memories.
What did you think of the support available at Strathclyde?
My CCL days with the Psychology tutor Jonathan Firth were all the support I needed. I knew other support was in place across campus however I found the staff on the course more than helpful that I did not require additional support.
Any final points or words of wisdom?
Just always bear in mind the duty of care you have as a teacher. You're a teacher of children first and foremost, the delivery of your subject always comes second. Essentially, we are the parent or guardian in their absence.