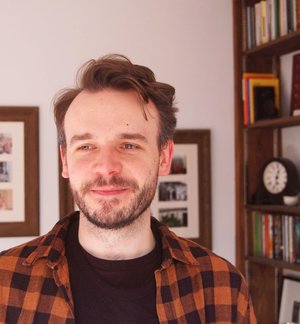 Tell us a little bit about your background...
I was born in Rutherglen, just outside Glasgow, and I've lived there most of my life. I went to Trinity High School, about twenty minutes walk from my parents' house. I didn't have to live in halls when I came to Strathclyde because I was so close to the city centre, but I still got a great feeling for the campus during my time here (2007-12). I chose a joint-honours programme: English Literature with Journalism & Creative Writing. By the time I reached my final year, I focused on English (especially modernist subjects) and Creative Writing. I learned a lot about writing discipline and history through the journalism classes but my mind was made up: I didn't want to be a journalist. I wanted to write books. I didn't know what kind yet, and I was realistic enough to realise that I probably wouldn't write novels for a living. I wasn't that good, though I had plenty encouragement. I enjoyed the rigour of academic life enough to pursue it as a career, and maybe some writing on the side.
When I finished my MRes in Creative Writing, I applied to do my Creative Writing PhD (both at Strathclyde and Glasgow University), but I had lingering doubts about my abilities and being able to sustain a living after the degree. I was accepted onto both, and I was mulling over where to go, when a call for a scholarship studying 'Georgian Glasgow' (University of Glasgow) went live. It also offered work experience in Glasgow Museums, and the general set-up seemed more geared towards a traditional academic career. I knew nothing about the Georgian period, but my creative writing was often about Glasgow, and with a sense of adventure and a spark of intrigue I took a gamble on it. It was an incredibly fast three years. Not long into it I'd found what I wanted to do. Once finished, my PhD thesis won the 2016 Ross Roy Medal (awarded to the best thesis in the field of Scottish Literature). After this I began lecturing Scottish Literature (maternity cover), and now I work full time as the lead Research Associate on two AHRC-funded editing projects: 'Editing Robert Burns for the 21st Century' (led by Prof Gerard Carruthers) and 'The Collected Works of Allan Ramsay' (by Prof Murray Pittock).
Why did you decide to study English at university?
When I was choosing my Highers, I realised that I was only good at English and Art. I was competent with some of the sciences and I was useless with maths. I actually applied to Art School as well as Strathclyde for English, but in the end (i.e. with the help of a fateful rejection from Art School) I decided on English. I was happy with this, because while I'd fared quite well in Art classes, my highest marks in school were always in English. I had no idea what I'd go on to do with it, but I knew I wanted to read more and write more about books.
Why did you choose the MRes route, as opposed to the others available?
I wanted to test myself, to make sure I wasn't only good at responding to recurring briefs or essay questions. Being a Creative Writing Masters it also meant I would need to be very self-disciplined. I told myself, "if you want to be a writer you'd better know how to do it every day, to motivate yourself to keep going." I also craved the freedom to research at my own pace, and to see just how far into the archive, or how deep into just one idea I might go. I figured that I'd had enough of taught courses and I wanted to put what I'd learned to the test without as many safety nets as before.
What advice would you give to someone considering studying your course?
Make sure you set some personal deadlines. They can slip a bit, but try pushing yourself to get more writing done. For all my good intentions I spent a lot of the MRes thinking about writing. Of course, this is part of the process. No-one has a full short story or novel in their head without some reflective pause, but there needs to be a decent balance. There might be a stretch of a week, maybe two, in which you have absolutely no inspiration, and the blank page is taunting you. Get something down, anything. You're better than you think you are, and editing very rough writing is better than no writing at all.
Do you have a highlight from your time at university?
I've spent eight years at university (four years undergraduate, 1 year MRes, 3 years PhD), so it's hard to pick out an absolute best moment. I'll pick two, though. Firstly, around third year of the undergraduate (so, around 2010), I was doing well with my short stories, winning departmental prizes and reading my work regularly at spoken word nights and the like. The peak of this was reading out one of my stories at the Aye Write Festival in the Mitchell Library in Glasgow. The story, 'Bifocals', was about my grandad, and he was still around to watch me read it out. It was a great event, and for the whole day afterwards I could feel the sun on my back. I knew I'd found something I loved doing, and sharing it with my family made it all the more memorable.
The second highlight was during my PhD. It was right at the beginning. I was sitting in the Kildonan Hotel, in Arran. We were there for my wife's birthday, and I'd lugged a suitcase of books over to write a literature review of an area I was completely new to. I remember delving into all this new and exciting theoretical literature (memory studies) and using it to understand a bygone era (the Georgian period), while the weather turned and the waves lapped up near the windows of the bar in the hotel. That sense of a new beginning was very exciting: I was about to enter a period of time I'd never studied, or even thought about. I haven't stepped back out of it since.
Can you tell us how you got into your current role, and share a little bit about what you do day-to-day?
During the PhD I tried to take on as many of the opportunities available to me as possible, to supplement my CV and build a portfolio of work. This included doing things like the Hunterian Associates Programme and Graduate Teaching work. I also have to count my blessings: I finished my PhD (on eighteenth century Scotland) just as new jobs opened on editing eighteenth-century Scottish writers. My timing could not have been better.
As a Research Associate on two editing projects I have a very dynamic and demanding working day, but it's the one I always craved when I would think about my future from a cosy spot in the library during the MRes.
Talking about my day-to-day is a little tricky because no two days are the same, or at least they don't feel that way - and this is a good thing! On the Burns project I am part of a team editing the correspondence of Robert Burns. So that's all the letters that he wrote and sent, and the letters he received. Burns's poems and songs are well known, his (English!) prose letters less so. What I do is: obtain digital images of the manuscripts or visit the manuscripts in libraries if necessary, and I transcribe those letters. I then track their publication history. Where were they printed and when? Did the editor/printer make any changes to the text to suit their agenda? It's fascinating work, taking me often to the National Library of Scotland in Edinburgh, to the British Library in London, and further afield to the great collection at the University of South Carolina.
On the Ramsay project I do similar work: consulting manuscripts or first-print editions of Ramsay's poems, for transcription or collation (i.e. the process of comparing the changes made to a text over a number of sources). This can be very laborious work, and you need to be very accurate. Sometimes the manuscripts are worn or damaged. On both projects I'm also responsible for a lot of the event planning, publicity of new finds or breakthroughs, and I do some teaching on both Burns and Ramsay in the Scottish Literature department. But the crucial thing about both these jobs is the balance between individual work and team work. I spend a lot of time on my own, either in a library or in my office, working on copytext or collation. But every few months the respective editorial boards meet to decide new workflows and deadlines. After all, both projects are aimed at publishing new scholarly editions: The Oxford Edition of Robert Burns and The Edinburgh Edition of Allan Ramsay.
What is the best part of your job?
The diversity, for sure. There is always something different to do, and often something surprising. I take a lot of pride in the fact that I'm at the coal face of two of these editions. I imagine the new generations of readers and students who will use them. In this sense I realise that working in academia gives you a real sense of responsibility, and, naturally, the people you work with often have the same passions for the work as you. This all makes for a very enjoyable, though sometimes intense, workplace.
Do you have a standout moment from your career so far?
Winning the Ross Roy Medal in 2016 was probably the highlight. Or, maybe - because I knew it was only the beginning - getting that Medal is joint favourite with an email I received in 2018. I'd submitted a book proposal to Edinburgh University Press, looking for them to publish my debut monograph, based on the award-winning thesis. There was still much editing to be done, but when they said yes I was incredibly happy. I fell off my seat (no metaphor) when I read the email. The book should be out in January 2021.
How did your time at Strathclyde help prepare you for this role?
My whole journey at Strathclyde was instrumental for my career. It was here that I learned how to write essays to a higher standard, how not to write essays, how to express myself creatively, how to work as part of a team (honours-year Creative Writing dream team), how to publish and edit a book (cf. Valve: a literary journal, 2011), how to wander the library and lose track of time reading about something new.
I even taught my first class at Strathclyde (semester 1, 2012). Most importantly it was here that I realised, for sure, that I never wanted to give back that library card. I knew I would always have something to say about literature and history, and I'd work hard to keep that level of access: to be part of a University full-time.
What are your ambitions for the future?
Once my book is out I'd like to focus on one or two journal articles. I have a decent number out already, but there's plenty of stuff left over from my thesis that didn't make the book. I'd like to look at that again. Otherwise, I'd like to get back into lecturing on a more permanent basis, but the research jobs come first. I'll see them through. And, one day, I'd love to publish something non-academic. A short story collection or a novel, maybe. I still write prose fiction now and again; I just don't have as much time as I once did to really develop my work or see it through to publication.
Any final points, or words of wisdom?
Everything I've laid out has only worked for me because I've always felt like I wanted to do it. In this sense I count myself lucky. I've had plenty of self-doubt, but I've always known that it would be worth it. Just make sure you know it is, too. There are too many people, I think, pushing themselves through to the next thing they ought to do, and not what makes them happy. Don't be afraid to take a step to the side and ask what you want with your life, even if it's inconvenient. Be honest with yourself. I'm suggesting bravery that I might not even have, but I've witnessed it.
My wife was always a high achiever. She went to Art School, did amazing work, went on to a postgraduate course, and then another in teaching, but all this relentless study and pressure came at the cost of her mental health. Taking a step away from it all was something she could barely imagine when she was in it. But she did. And she's so much happier now. This doesn't mean you shouldn't push yourself, but if you take anything from reading my journey please remember: we're all human, just do your best and look after yourself.