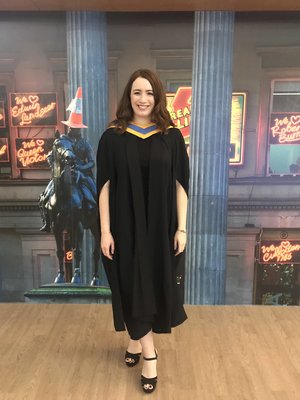 Tell us a bit about yourself...
I moved to Glasgow in 2011 to study BA (Hons) Psychology at the University of Strathclyde, I then completed the COSCA Certificate in Counselling Skills in 2017 followed by the MSc Counselling and Psychotherapy in 2018, both also at Strathclyde. I very much enjoy travelling and experiencing new cultures and took a break after my undergraduate degree to travel.
Why did you choose Strathclyde for your postgraduate degree?
I really enjoyed my experience at Strathclyde during my undergraduate degree and the MSc Counselling and Psychotherapy appealed most to me of the other options in Scotland.
What initially sparked your interest in studying Counselling & Psychotherapy?
I had previously volunteered for the Samaritans throughout my undergraduate degree and was interested in continuing to develop my listening skills. I decided to pursue counselling in 2017 and completed the COSCA course. After learning about different counselling modalities during this course, I felt an affiliation to the Person-Centred approach and looked into opportunities to study this further. The MSc was new at the time, it had developed from the PGDip – it seemed like a great chance to learn. The experiential nature of the MSc was an approach I was not used to coming across when looking into postgraduate courses and the inclusion of a placement was an exciting opportunity to begin practicing and experience being a counsellor/psychotherapist.
What advice would you give to someone considering studying your course?
I would advise them to ensure they are ready to commit to a full-time experiential postgraduate course and placement, as it is time-consuming, but if they are they will have one of the most educational years of their life, both in terms of academic insight and personal development. I would advise them to throw themselves into the course and enjoy the process.
Do you have a highlight of your time at university?
My highlights and best memories are mainly from the experiential workshops. Learning about both counselling and myself at the same time through discussion and creativity was a completely different approach to education than I had ever experienced, and one that I found great value in. These helped me to forge lifelong friendships and develop a strong sense of self-awareness which has been extremely beneficial in managing both my career and personal life.
If a placement was included as part of your course, can you tell us about this and the experience you gained?
The placement was a crucial part of the learning and allowed me to gain a sense of what it would really be like as a counsellor/psychotherapist and to learn through first-hand experience. It helped to be able to relate the theory and skills practice to situations in therapy and to gain a deeper understanding of the person-centred approach. With a range of clients and presenting issues, I was able to develop the adaptability and resilience required of the job. I had two placements during my MSc within different areas, which allowed me to obtain a wider understanding and experience of counselling provisions.
Where are you working now? And, how did your time at Strathclyde help you prepare for this?
I am now a self-employed counsellor/psychotherapist working in partnership with First Psychology Scotland. My time at Strathclyde, and particularly on placement, prepared me to manage my varied client caseload and to understand how to maintain boundaries, both within work and between work and my personal life. The support provided by the tutors helped me to build confidence and feel ready to begin work. The nature of the course encouraged me to seek support and talk openly about my practice which would ensure I would use supervision to maintain ethical and good practice and provided comfort in knowing it would be ok to ask for help.
Personally, the part of the course which prepared me most to work with clients was the personal reflection and development I achieved through workshops and reflective assignments. I developed my self-awareness which helps me to offer understanding, congruence, acceptance, and empathy to clients regardless of their presenting issues.
What is the best part of your job?
The best part of my job is experiencing the therapeutic relationship develop between me any my clients, hearing them become more self-aware and watching them become empowered to make necessary decisions or changes. A client experiencing a revelation or breakthrough in therapy is a very special moment, which I feel privileged to be a part of.
What are your ambitions for the future?
My ambitions are to continue working in my current field and extend my skills to couples counselling and young people's counselling.