MSc Health History

Xiaoye Zhu, China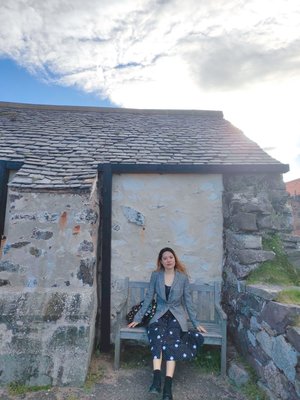 Tell us a little bit about your background...
I'm from Shanghai, China. I completed my undergraduate degree in 2018 in China, then I pursued a Master's degree in Shanghai University the same year. I am studying Chinese Modern History, specialising in missionaries and Chinese society. In China, postgraduate courses are for three years. 2019 is the second year of my postgraduate course. I came to Strathclyde to study the MSc Health History. It's an honour for me to join the MHCUK programme, a collaboration between the Centre for the Social History of Health and Healthcare at Strathclyde, the University of Manchester, Shanghai University, Fudan University and the Shanghai Academy of Social Sciences. The programme aims to encourage the development of Medical Humanities across academic cultures and is generously funded by the Wellcome Trust. After I finish the courses in the UK, I will go back to Shanghai University to continue my third year of my postgraduate courses and write my dissertations, one in Chinese and one in English. On completion of these, I will get two Masters degrees: one from China, the other one from the UK.
What inspired you to study your course?
When I was studying how missionaries affect Chinese society at Shanghai University, I found the progress of medical treatment in modern China was closely related to missionaries. In particular, the modern medical treatment of women's health and fertility is closely related to missionaries. My mother is a doctor of obstetrics and gynaecology. The hospital that my mom worked in carried out health knowledge lectures on common diseases of obstetrics and gynaecology with the aim of enhancing awareness of health care for rural women, popularizing birth control knowledge, and sending health ideas to the countryside. That's the reason why I chose to do my dissertation on infant education at Strathclyde and explore the differences between infant education and women's health education in China and the UK.
Why did you choose to continue studying at postgraduate level with Strathclyde?
When I decided to join the programme, I had the choice of studying at either Strathclyde or Manchester. I browsed the two universities' official websites and compared courses. I was really interested in the courses at Strathclyde, especially courses like Gender, Health and Modern Medicine; Medicine, Health and the Moving Image and Health, and Healthcare in the Long Nineteenth Century.
How has your MSc helped you prepare for your chosen career path?
In the future, I will pursue a Doctor's degree. The courses helped me a lot in understanding research theory and methods. I believe this knowledge can help me to do better research in the future. First of all, I found that history of health and medicine has developed significantly. It covers not only the evolution of medical theory and technology but also major changes of society and culture. Historical research is not limited to medicine, but extends to common concerns in the humanities and social sciences. Secondly, the study of medical history uses not only research methods of history but also those of sociology and other disciplines. Thirdly, medical historians draw on a diverse array of sources, including novels, biographies, essays, diary letters, films, and other materials.
What advice would you give to someone considering studying your course?
Health history is not only a historical discipline, but also a combination of sociology, psychology and many other humanities and social sciences. I hope students can read a wide range of works in different disciplines to better enrich the theoretical basis.
What specialist knowledge/professional skills have you developed whilst studying your course?
The most impressive is that the relationship between practitioners and patients. I read a lot of articles about that. The most famous is Roy Porter's articles. For a long time, Chinese and Western scholars have studied great doctors. In the 1980s, British scholar Roy Porter proposed to study the history of medicine should pay attention to the history of patients and marginal groups in the medical community, because the participants in medical activities are not only elite doctors but also patients, family members, and other related groups. Thus, scholars can study on the doctor-patient relationships and non-elite healers and the group of marginal doctors, and so on.
What have been the main challenges studying at postgraduate level?
At the postgraduate level, the articles we read are more obscure and difficult to understand. Especially for non-native English speakers, I need to spend more time reading these articles, the most important thing is to have critical thinking and form my own unique opinions.
Tell us a little bit about your experiences with the CSHHH and the Wellcome Trust...
The CSHHH in collaboration with the Wellcome Trust, has worked with Shanghai University for many years. Every year, there are conferences held at Shanghai University and I've been a volunteer at these conferences. These high-level conferences are quite amazing. When I knew that the CSHHH was recruiting Shanghai University students for the exchange program, I didn't hesitate to apply.
What do you think of the support available?
Many thanks for the support from Strathclyde. I really appreciate the support from Jesse Olszynko-Gryn, Jim Mills, Caroline Marley and Janet Greenlees from Glasgow Caledonian University. Especially during the pandemic, they were concerned about the mental health of the international students and provided a lot of help for our study. It's quite an enjoyable experience studying at Strathclyde.
What are your ambitions for the future?
I will go back to China and continue my postgraduate courses. After graduation, I want to work for one or two years. I have been studying continuously and have never worked. So I want to experience a different life. After that, I will start my doctoral program.
Any final words of wisdom for prospective students?
I want to say to all international students from China, study English hard, and don't be shy, try to communicate with people. At Strathclyde, you will have an unforgettable experience and gain an international education and English language training, with social and cultural activities.