Undergraduate law students

Aikaterini Rachanioti, undergraduate law LLB, Greece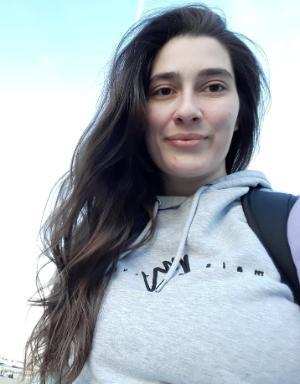 Tell us a bit about your background…
I moved to Scotland from Greece in 2014, and enrolled in secondary education in Glasgow. I had known since my early teenage years that I wanted to study abroad, but when I was 16, I decided to start early, by moving into secondary education in senior year 5, in Scotland.
Why did you decide to study at the University of Strathclyde?
I had heard good things about the University from friends who studied there before, but I was also impressed by the rankings. One other thing that really tipped the scales for me, was the Strathclyde Law Clinic, which I believe is an incredible way to gain experience in the legal field and be able to practically apply certain aspects of the course.
What inspired you to study law?
I love problem-solving and I have always wanted to make a positive impact on people's lives, and the community- no matter how big or small that impact is. When I was still in school, I was not sure what I wanted to study, but once I got to speak to a few student ambassadors who were visiting my school, I found out more about Law, and the subjects that are included in the course, which made me really interested in pursuing it.
What made you select LLB Scots and English Law?
I wanted to give myself more choice in regards to work. I am not set as to where I want to stay permanently yet and therefore, having the option of doing a degree that gave me the opportunity to be able to practice law in both Scotland, England and Wales, gave me the freedom that I was looking for. The variety of subjects that this course had to offer, was also a big part of why I chose it.
What has been the highlight of your time at Strathclyde so far?
The highlight of my time at Strathclyde has been meeting new people from all over the world and being exposed to a lot of different cultures and lifestyles. Freshers' Week is also always a great experience which I look forward to. It's a great opportunity to meet new people and attend various fun events.
What would be your advice for people considering studying at Strathclyde?
Try and use the resources made available to you by the University, as much as possible. Spend some time at the beginning of your journey at Strathclyde, exploring the different resources available and get involved in things like e.g. introductory library tour. It is also quite useful to attend an open day before starting your course, in order to get to know the University grounds a little better, but also to have the opportunity to ask staff any questions you may have.
What has been the main challenge while studying at University?
For me personally, the main challenge, has been balancing part-time work and University work. At times it is hard to know what to prioritise, but since my course involves doing something that I wish to pursue long-term, I always try to dedicate as much time as possible to my course work.
What do you hope to do when you complete your course?
Once I complete the Undergraduate course, I plan to undertake the Honours year and then hopefully the Diploma. I have not yet conclusively decided what kind of employment I want to look for when I graduate from my course, but I plan to look more into that in my Honours year. By picking electives in Honours year, that I find interesting, I hope to discover what I am most passionate about, and perhaps discover aspects of Law I didn't know existed.