LLM Human Rights Law

Helen Vaupel-Schwittay, UK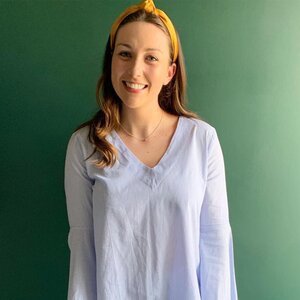 Tell us a bit about your background please...
I moved to Glasgow in 2012 for my undergraduate degree, I grew up in a small town in Northern Ireland and am originally from Germany. I've always been very passionate about human rights, specifically women's rights and social justice. My undergraduate degree was in Media and Communications and even in my undergrad dissertation I focused on the representation of women as victims of rights abuses in Irish film. After spending three years working for a fast paced FMCG company I decided that I wanted my job to feel more rewarding and that I wanted to re-school and learn more about human rights.
What inspired you to further your studies?
I've always enjoyed learning and after three years in an international company where I still saw gender and racial inequality within team roles and the leadership team, I decided I wanted to do something about it.
Why did you choose to study LLM Human Rights Law?
I have always been interested in human rights and wanted to further my learning. I was in a position where I wanted to move from a marketing role to the third sector/work in human rights, but I wasn't sure what my options were without being a qualified lawyer. Looking back now, at the opportunities I've had and the work experience I've gained by networking with my lecturers and being open to opportunities, I would have never imagined myself here when I first started the course a year ago!
What attracted you to Strathclyde specifically?
I have friends who have studied at Strathclyde and I just knew what a great university it was.
What has been the highlight of your time at Strathclyde or on your course?
The knowledge and experience of the lecturers teaching on the course has been so impressive. A highlight for me are the particular classes taught by Professor Alan Miller, whose background and importance not just within the United Nations (wow!) but also the current Scottish Human Rights landscape is incredible. I couldn't believe he was taking the time to impart his wisdom and could have asked him a million questions each time we had a class with him! I also found it really impressive that we were allocated a personal development tutor who took the time to get to know us and find out what we wanted out of the course. Because of Dr Elaine Webster, I am now working as part of the Institute for Inspiring Children's Futures on a COVID related, children's rights project – something I would never have thought would come from this course before I had even graduated!
Have you come across any challenges during your studies, and how have you overcome them?
The main challenge for me was the jump in workload and reading from an undergraduate degree. The reading lists for each class were pretty overwhelming at the beginning, but you get used to this. Again, my personal development advisor kindly reminded me that doing a Masters is like a full-time job and once I was in this mindset and set aside that time it all began to fall into place.
What would be your advice for people considering taking this course?
Go for it! The only thing I would say is think about what you are really passionate about. Don't do this course for the sake of doing a Masters degree, do it because you are passionate about Human Rights and want to learn. Otherwise, it could be a long and hard year!
What do you think of the support available?
They have been incredible! As I have mentioned before, the personal development tutor was new to me (I did my undergrad at a different university) and my PDA meetings with her have really guided my professional development and opened some amazing opportunities. The lecturers have been amazing and any time I have used professional services they have been so happy to help. When I first started the course, I had never used the OSCOLA referencing system and the library team were amazing in supporting me with this.
What are your ambitions for the future?
I hope to work for a women's rights organisation as an advocacy or support worker. Once I have submitted my dissertation, I wish to volunteer in this area and then go from there in building my experiences and finding a job. I am open to all paths and to continue on everything I have learnt in this past year. The ultimate goal is to work for the UN at some point!