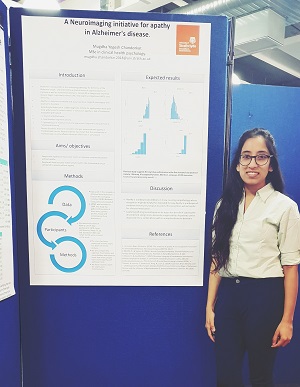 Tell us a little bit about your background…
I am from a sprawling city in the western Indian state of Maharashtra, Pune. As I was growing up I saw my father working with naturopathy to cure diseases without using medication or physical contact. I was curious as to how this worked and to satisfy this curiosity, I started reading books on Pranic Healing and also on the human psyche. I decided to get professional guidance to learn this technique and completed a basic Pranic Healing course. That however, wasn't enough. Working with my father made me realise that an in-depth knowledge of psychology would only act as a catalyst in my personal growth.
Aside from academia, I have had multiple interests throughout my life. I've been an avid trekker for the past five years and have completed various local, as well as, three Himalayan treks. This is more than a hobby – it has made me tougher and more than ever willing to take on and complete challenges that I never thought I could. Other than this I have also been learning dance forms of various kinds for fourteen years and it has taught me that if you persevere, nothing is impossible. I have also been learning German and Sanskrit which satisfies my curiosity for experiencing different cultures (at least to some extent).
What attracted you to the Clinical Health Psychology programme at Strathclyde?
What drew me to Strathclyde is my belief that it would provide the opportunity to gain the required expertise in the psychology field while fulfilling my extracurricular needs. Initially when I was narrowing down my options, choosing a course abroad was especially difficult for me. Interestingly, I found the perfect balance of health psychology, neuropsychology and clinical psychology all together. It was only when I came across this particular course that I knew what I wanted to do. I knew that this was the course that would cater to all my needs academically as well as in terms of personal growth because of its focus on neuropsychology and research. I am someone who values research in these areas which can help the society in a broader way. And I realised that living away from family would also provide me with immense opportunities to test my limits and widen my horizons.
Had you considered furthering your studies at other universities?
I hope to apply for the PhD in clinical psychology from the University of Strathclyde itself. I feel one year is not enough, I want to explore more.
What advice would you give to someone considering studying your course?
You don't need to be a mathematical genius to pursue this course. I wasn't. Maths has always been out of my territory. What you do need to have is an ambition to learn psychology and be open to new experiences. I would suggest reading 'Discovering Statistics Using SPSS' by Andy Field for the beginners like I was. After coming to Scotland I was binging on this book to refresh all my knowledge – it changed my life.
Tell us about your time during professional placement.
I have gained a much deeper understanding of how psychology works. Back in India, I was working as a school counsellor at "Teach for India". This is an initiative that works with underprivileged kids in schools and is aimed at ending educational inequality. They have broadened this initiative by introducing counsellors in schools to enhance the mental health of these children as well. I have been working in the same capacity. I have conducted workshops for children to understand what is welcome or unwelcome physical contact or good touch- bad touch, study/learning skills, menstrual hygiene, art therapy, mind mapping and dance therapy, etc. Also, I have catered to the parents of these children with workshops on parenting skills.
Will you take any learnings from this placement in to your career?
I like to help people understand their problems. This placement will help me to grow as a person. It will similarly focus on time management skills as well as communication skills.
What do you think of the support available throughout the course?
Strathclyde's psychology department is the most helpful, professional and dedicated staff I have ever worked with. Our course director (William McGeown) who is also my dissertation professor, has helped me in the studies as well as to solve my emotional issues. As an international student I have dealt with unimaginable stress where William and the postgrad class leader for Clinical Psychology (Leanne Fleming) have supported me time and time again. Then, we have got the best counsellors like Saliha Anjum who has been my strongest pillar. She has helped me to find positivity throughout the toughest times. All of them have made my university time easier. The entire Strathclyde staff is extraordinary.
Do you have a highlight from your time at university so far?
In this academic year, I delivered a stress-busters presentation for university students and conducted a short meditation of Om Mantra. It increased my interest in counselling even more after receiving a tremendous response from the peer groups for the meditation. I also learned the practical application of psychology that demands working within an applied setting in a working environment. I have created an Instagram account where I talk about mental health through my doodles and help others who are suffering with stress, anxiety etc.
Apart from the course, I have joined many societies like lacrosse club, dance society, Strathclyde photo club. Which helped me to maintain the balance between course work and extracurricular activities.
I had never played any sports before coming to Strathclyde but Strathlax taught me to fight against all the odds and win the matches. I have become more confident now. Joining the photo club, was one of the best decisions, as now I have started my travel page on Instagram.
What are your ambitions for the future?
I want to take up an eclectic approach towards therapy where I would include alternative therapies like dance and movement and art based therapies in my treatment modules. I am certain that I can use my extracurricular skills in ways that benefit the society. I wish to extend my limits and attempt to bring together theory, research and application in my approach, which would be geared towards prevention also and not only cure.