"Solo": A De-Stressing from Summer Coursework Story
By Alex Wasalinko
Summer is upon the Strathclyde campus; the library and cafes have switched to their off-term hours, the flowers in gardens across campus are blooming, a hush has fallen on my normal back-and-forth commute from the Lord Hope Building and Library. An end of exams means many students have departed Glasgow for their individual adventures but some students are still hard at work with fall submission deadlines fast approaching. I am among those still meandering through a now mostly-empty library and spending many hours preparing my final thesis.
This summer will mark the first time in my academic career when I will be studying for the entire duration of the summer months, but that's not to say the next three months will be void of fun. It's a known fact that a balance must be struck between work and play, and I am lucky enough that Glasgow is filled with gigs, food and drink festivals and all around good times for the student looking to take a break from coursework.
For me, I've found more alone time on my hands since the end of exams, but I have used that as a catalyst to push myself out of my comfort zone to attend more events solo. The first was the Glasgow International, Glasgow's biennial art festival that takes place for two weeks across the city. I spent two days on my own viewing galleries near my flat in the city centre and across town in the West End. I also attended a tour provided by Glasgow International volunteers. Those three days spent gallery-hopping introduced me to some of Glasgow's treasures I previously overlooked, such as the array of galleries and open studio space at Trongate 101.
The next big solo adventure I took was to the Glasgow Coffee Festival. I spent the day at The Briggait chatting with local coffee bean artisans and sampling one (or maybe 5) too many espressos and cold brews. I attended the festival alone but ended up running into fellow Life at Strathclyde blogger Jessica while we were waiting for our Americanos. Though I did leave the festival feeling slightly over-caffeinated, I carried the warm feeling I received from my conversations with the baristas and roasters–plus a long list of cafes to visit with friends–back home with me.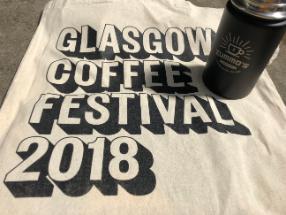 I have been getting into the habit of attending more seminars and workshops, which has two advantages: first, during the week they are typically scheduled in the late afternoon which makes them the perfect mind-stimulating break from work. Second, it's an even better way to meet folks with similar interests. The Strathclyde University Feminist Research Network has been hosting monthly seminars, including a screening of a documentary, Girls' Tales, followed by a book launch and conversation. A few days later I participated in an arts workshop that served as a bit of art therapy and yet another source of wonderful conversation and connection with other students working in Glasgow.
My most recent and biggest push from my comfort zone was attending a sold out gig by myself. I nabbed and splurged on a ticket to LCD Soundsystem's show at SWG3 back in November with the thought that one of my friends would also definitely have a ticket. I was wrong and met with a predicament: I could sell my ticket if I couldn't find anyone to go with or I could try something new and just go. I chose the latter. The first hour of waiting felt slightly awkward as I looked around and saw groups claiming their spots in front of SWG3's outdoor stage. Once I settled down on the pavement and soaked in a combination of the Glasgow heatwave and the opening DJ set, the awkwardness vanished. And of course, in line with my experience of living in Glasgow, by the time LCD Soundsystem took the stage, I had struck up conversation with the local couple standing next to me who were also seeing the band for the first time.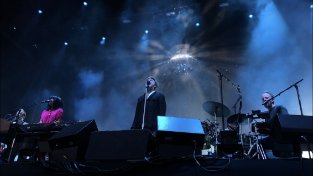 I continue to learn that Glasgow is the ideal place to nourish the independent student. By day, and into several nights, I am hard at work to meet deadlines and finish revisions. When I do find invaluable free time, I know there will be something to do either on my own or with friends. Between the festivals, gigs, and seminars still happening on campus, Glasgow in the summer is completely buzzing 24/7. For those who might be a bit like me and have a few reservations about going to events alone, it's okay! The time to be adventurous is now, and Glasgow, with its ever friendly people keen to make you feel at home, is the place to do it.