"Travel Review: Croatia and Montenegro"
By Samantha Walker
I thought I would focus this blog on my recent trip to Croatia and Montenegro. I have heard lots of people mentioning travelling to Croatia recently so I thought I would give an insight into my trip and share my thoughts on this up and coming holiday destination.
As university shuts up for summer, students are looking for things to do and planning their summer trips abroad. I headed to Croatia in May and wasn't expecting it to be as warm as it was which was a fabulous surprise as most days the temperature was high in the 20's and creeping into the 30's so I can't imagine how warm it would be if you headed here in July or August time. Usually, I don't go on my summer holiday until later but I felt this time was a good time to go this year as Croatia wasn't as busy as I think it would be in the height of summer. The only downside to this holiday destination was the lack of apartments and hotels with swimming pools.
I stayed in a stunning apartment in Cavtat which was roughly half an hour from the city of Dubrovnik which I found was perfect. I would say Cavtat was perfect for the kind of holiday we wanted as it had a range of stunning restaurants and bars and was situated on a beautiful harbour which is home to a variety of luxurious yachts and ships. If you prefer a nightlife kind of holiday then Cavtat wouldn't be your first choice.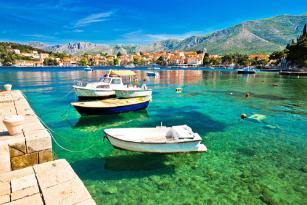 Dubrovnik was stunning and had plenty of things to do, I spent two days there but could easily have spent another couple. Going up the cable car was a great experience and gave stunning views of the city. I would also recommend you walk the historic old town walls: even although it took a good couple of hours in blazing heat and on at least six occasions I thought I was going to have to give up, it was worth it. Another great place to visit was Banje Beach which is an "Upscale seafood restaurant & vibrant waterfront nightspot with DJs, a private pier & a beach." Two places I would say you have to visit if you go are: Surf n Fries purely for the cool packaging your chips come in and Captain Candy for your endless amount of sweets in a pick n mix to chose from (avoid doing what I did and spending nearly £40 on heavy sweets… choose wisely).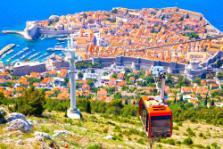 I also visited Lockrum Island which was stunning, it is an island that nobody is allowed to live on, however it is home to endless amounts of wildlife particularly peacocks that roam around the island. You could easily spend a full day here as it has access to the sea, walks and a variety of swimming areas. Cilipi was also another fabulous place to visit, each Sunday morning they put on a traditional dance show which was a great way to see another culture and experience traditional life for the residents of this town. Another thing I would 100% recommend doing is taking a day trip into Montenegro. This was one of my holiday highlights as the country was stunning and somewhere I intend to visit again. I visited three places: Lady of the Rocks, Kotor and Perast, my favourite was Lady of the rocks.
Croatia and Montenegro were both stunning holiday destinations and I would recommend anyone to visit them even if only for a long weekend. I think May was the perfect time to go as it was busy but not as it would be in the height of summer.