Weekend up in "the" Skye
By Alex Wasalinko
The Isle of Skye is without a doubt one of the iconic travel destinations in Scotland. During the summer months, the island's towns are filled to capacity with tourists and travellers taking in the otherworldly landscapes, serene shores and trying to catch glimpses of faerie pools and highland cows. Travel during the off, season, however, and you get to travel to all the best hiking and photo stops without the crowds (and as an added bonus, usually within a better price range!).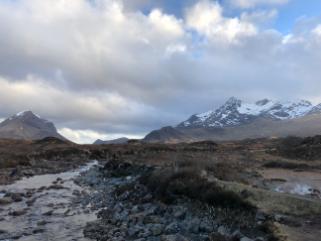 I visited the Isle of Skye once when I was an undergraduate on a semester abroad in Scotland two years ago, and I was long overdue for a return. When I saw that the Strathclyde International Society was running a full weekend trip, I bought my ticket instantly without a second thought.
This visit to Skye marked my first time attending a society organized trip without closely knowing anyone else going, and at first, I had my usual reservations. One of the biggest personal lessons I learned since beginning my postgraduate studies is how to put myself out there–whether that includes attending society socials, joining writing workshops or spending three days with what would most likely be strangers–in order to meet new people. Naturally, as always in these situations, my reservations proved to be a series of silly nerves; as soon as I boarded the bus bound for a trip through the Highlands, I felt immediately welcomed and at home with the people around me.
The trip itself lasted from 8:00 Friday morning to Sunday evening, making for three full days of nonstop scenic routes from Glasgow to Skye and back. Our journey took us to Luss on the coast of Loch Lomond, Glencoe, Ft. William at the foot of Ben Nevis, Glenfinnan and the Harry Potter bridge, over the Skye Bridge to Broadford, Portree, Uig, the Old Man of Storr and the tip of the Troternish Peninsula, and back through the Highlands to Eilean Donan Castle and Inverary. Days were spent completely soaking in Scotland's iconic wild beauty. By morning and afternoon, we wandered through picturesque towns or hiked Skye's (sometimes challenging) hills. Our two nights in Broadford were filled with pints, whisky and plenty of laughter in a town pub.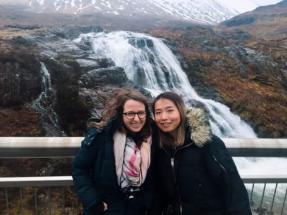 As I absorbed Scotland's landscape, I thought about the experience of being an international student. Many people often ask me why I chose to study in Scotland or at Strathclyde. My weekend in Skye is my answer; I love Scotland's cities and its countryside, mountains and islands. I also love being a member of an international community where students from all over the world can come together to share their cultures and experiences–with some stunning views as the backdrop.
Above all, I spent the weekend reminding myself how much I love being in Scotland; no matter where I go I am bound to be met by the beauty of the sights and friendliness of individuals. It's been over six months since I arrived in Glasgow, and I know this weekend will last as one of the highlights of my time at Strathclyde. I marked many more items off my Scottish bucket list (See two film sites from Harry Potter? Check. Meet a herd of Highland coos and snap a selfie with one of them? Double check. Climb up to Old Man of Storr? Almost check, but still worth it) and had an opportunity to revisit one of my favourite places in the world. From this trip, I re-learned the value of stepping out of my shell to meet new people. It is incredibly rewarding to walk on a bus knowing only a few people and to leave with new friends. Looking back, I view my initial butterflies like the sporadic rainstorms I encountered throughout the trip; they are quick to pass and always end with a stunning rainbow making it all worthwhile.