News

Interested in mentoring a young person or helping a child learn to read?
Mentoring into higher education
In 2011 researchers from the School of Education invited alumni to participate in a volunteer mentoring scheme to work with young people attending schools with low progression rates to Higher Education. Over the last 10 years, the programme has enjoyed an amazing response from people interested in volunteering with us. Our work has expanded and we continue to match mentors with pupils in S5 who are hoping to study at university. The project introduces mentors and mentees and supports a one-to-one mentoring experience. A key finding of this project to date is the value a mentor can bring in terms of being there to support the young person in exploring and thinking about their futures.
The Intergenerational Mentoring Network is a social enterprise formed from research and development work in the School of Education. It is currently working in new schools in Glasgow and in Alloa and is urgently seeking new mentors.
Chloe and Jane
Jane and Chloe provide an excellent example of the role of a mentoring relationship. It is one that not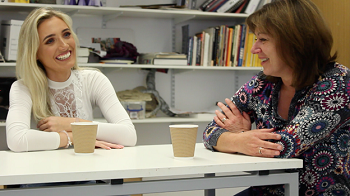 only supports the young person but, equally, can be interesting and rewarding for mentors.
The following account from Jane, one of our mentors, gives a flavour of what is involved:
"I volunteered as a mentor in 2015. Chloe and I have kept in touch and I thought you'd like to know that she graduated with a first this summer from Strathclyde Business School and has just secured a place on a Grad Training programme with a company supplying parts to the aviation industry. The competition for this role was immense and the recruitment process was extensive and complex. I'm sure that you would agree that securing a Grad Training Scheme position in this climate is almost unheard of. She has done incredibly well and I am so proud of her.
Chloe was overwhelmed when starting university and the IMN team were able to speak to her and put her in touch with a volunteer who had previously taught in her department and was able to reassure Chloe and, with a little support, we managed to convince her not to leave. She then went from strength to strength and spent a semester in Hong Kong. My relationship with Chloe has been ongoing and I have supported her over the years with bursary applications, job applications, work experience and general pep talks! For the position she has just secured, my husband (who was MD of the company Chloe did some work experience in and based some project work on) and myself helped Chloe with her presentation for the interview process. It has to be said that each year that Chloe has asked for my help, I find that I have had less input to make and much more to learn!
Chloe has been the most immense joy to watch blossom into a phenomenal young woman and it has been such a pleasure to be part of her journey. The Intergenerational Mentoring Network programme has worked spectacularly in Chloe's case and that she is now able to fulfil her somewhat impressive potential. I think Chloe would have got herself to university without our help but I think she would have left by Christmas in first year without the ongoing support from me, and the project team. I know that the mentoring programme officially "stops" once the young people get into university but, from my experience with Chloe, perhaps this is just when they need us most. Thanks for giving me the opportunity to meet this young woman and be able to be part of her life over the last five years and, I suspect, for many years to come. It has been such a pleasure."
Help a child learn to read
Building on some initial funding from the Alumni Fund, IMN have also been working on developing a further mentoring programme which supports young primary school aged children with their reading. This is currently being developed in primary schools in both Glasgow and Alloa.

IMN offers training and support in this programme but the emphasis that runs across all our projects is establishing relationships with the children and young people that can then support their learning. The project evolving and has the potential to make substantive impact on children. It offers an innovative process for directly addressing one of the key dimensions of the attainment gap between children from working class or poor backgrounds and those form more middle class ones.
Would you like to be involved?
IMN was formed to enable research informed innovation in schools and communities. We urgently require mentors for the above project work and if this is of interest please get in touch. If you feel you could support our programme in other ways please also make contact.
For further information please visit our website or contact us:
Email: Katie Hunter or Alastair Wilson
Phone: 0141 444 8108
More information about the project, including a short film and a short application form are available at www.intergenerationalmentoring.com