News

Members of staff from Psychology & Health represent faculty at 2019 Explorathon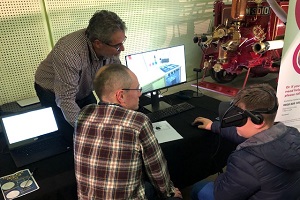 Three members of staff from the School of Psychological Sciences and Health represented the faculty at the 2019 Explorathon (European Researchers Night) event on Friday 27th of September, at the Glasgow Riverside Museum.
Dr. David Robertson's 'Are you a super-face-recogniser?' workshop returned for its third year, with more than 100 members of the public taking part over the course of the evening, while Dr. Lynn William's stall highlighted the excellent work she is doing on her CSO funded 'Flu Vaccination Project'. Finally, Dr. Mario Parra Rodriquz displayed his exciting and novel approval to Alzheimer's treatment, using the very latest in virtual reality technology.
Find out more about the School of Psychological Sciences and Health >>