News

Blended and Online Teaching: The University of Strathclyde Experience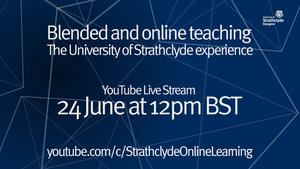 "Blended learning, in which pupils spend as little as one day a week in class and the rest at home, could be the norm throughout the school year starting on August 11, the leader of Scotland's biggest teaching union has warned." (The Times, June 14th 2020)
The COVID-19 crisis has required teaching professionals in Scotland and the wider world to engage in online and blended learning. For many, this has been the first experience of this and has presented challenges.
For many years, the University of Strathclyde has successfully run a range of undergraduate and postgraduate degrees online and using blended learning. Over this time, the institution has developed an understanding of the challenges, risks, and rewards of these approaches.
On Wednesday June 24, Graham McPheat and Howard Ramsay will be hosting a one-hour live stream for viewers to learn about our university's experience with this model of learning. The session will be of particular interest to the following:
Primary and Secondary school teachers and managers
Child care professionals
Statutory and voluntary child care organisations
Graham McPheat is Senior Teaching Fellow in Social Work and Social Policy and Associate Dean for Online Learning in the Faculty of Humanities and Social Sciences.
Howard Ramsay is a Learning Enhancement Manager in the University, managing a team which supports subject experts in the development of online and blended courses.
There will also be an opportunity to send questions live throughout the session.