News

HaSS welcomes its first students for 2020/21
The Faculty of Humanities & Social Sciences has been known to welcome the first cohort of the new academic year every year with the start of the Professional Graduate Diploma in Education (PGDE) programme. This academic year is going to be a little different, but our PGDE students have taken the changes to learning in their stride. We caught up with a few of them to find out what online/blended learning has been like for them, so far.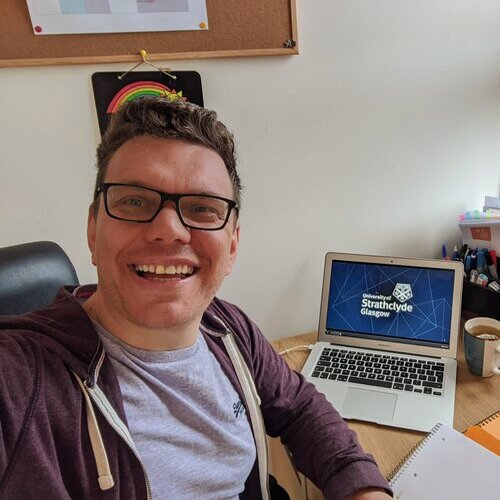 Ross Chmiel
Primary Education (PGDE)
"Blended and online learning has been full of unexpected benefits! It's given me more chances to look after my own wellbeing by having the opportunity to take short breaks to go out for a walk or run and it makes it easier to take some quiet time just to chill when things are getting too much. This way of learning adapts to fit in with my life really easily. I have so much more flexibility on how, where and when I balance lectures with reading. Being able to pause lectures to catch up on note taking, look up things I didn't understand or just to nip to the loo has been fantastic! The support for the tutors and fellow students has been amazing. My top tip is to join a Whatsapp group with others on your course – it's a great source of advice, banter and a great way to make friends!"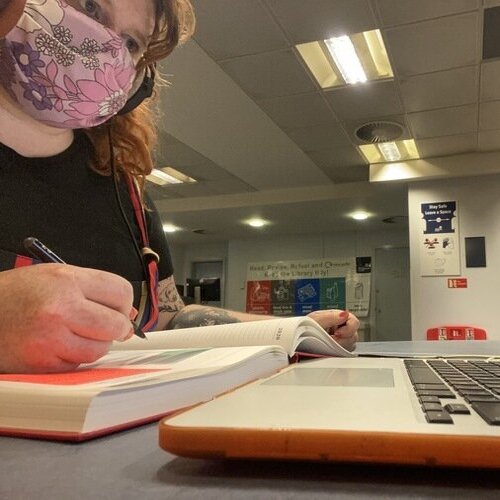 Rachael Murray
English (PGDE)
"I was apprehensive about starting my PGDE through blended learning – after spending lockdown alone in a small flat, I was worried about now spending more time tied to my desk, staring at a computer screen. However, all the tutors have been very conscious of 'Zoom fatigue' and the physical and mental health implications of this sudden working-from-home lifestyle. Every video lecture so far has had moments where it's prompted to you to pause, get up, have a walk or a cup of tea, just to get a break from the screens. During our induction, all the Strathclyde staff talked about the importance of looking after yourself, including a Webinar all about Resilience and Wellbeing which outlined all the support resources available through the University. The way in which the course would run was also clearly explained, that it was made up of 'asynchronous' lectures which we could watch online on our own time and 'synchronous' seminars, which would be interactive Zoom calls as a group. The library being open for independent study has been a lifeline – I now do all my reading and watch all my asynchronous lectures from the quiet study area there. I've found it's really helped with my concentration and restored a healthier work/life balance. The synchronous seminars, particularly when we're put into smaller break-out groups, have been great for being able to interact with fellow students, and even start to put a face to some names! I'm part of a WhatsApp group with all the other Secondary English PGDE students, which I love – there's always people ready to give you some help if you don't understand something, or a pep talk if you're feeling overwhelmed! "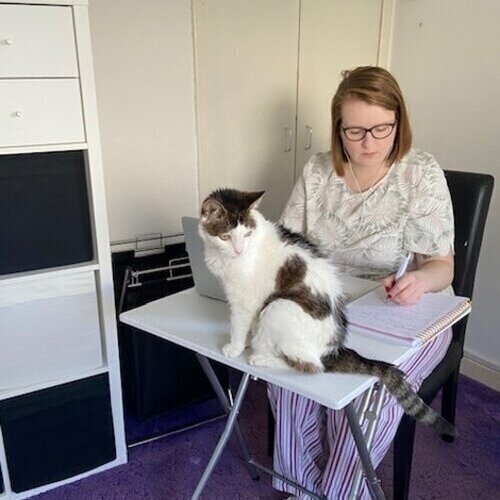 Sharon Russell
Business Education (PGDE)
"Being in a classroom is very different to learning at home and I was concerned online learning would be overwhelming. My house is not a natural learning environment and I have set my own schedule around my online classes from a makeshift home(work)station. Even though and I am missing the face to face interaction I feel I have adapted to the change quickly. Online learning has encouraged greater collaboration between students and lecturers; we have been sharing and learning from each other through Facebook and What's App Groups as we adjust to a new normal. Teaching staff are readily available and class engagement is working well as we are connecting in many ways. My advice would be to set boundaries between learning and personal life and even though you are not physically with others from your class, remember we are all going through this together."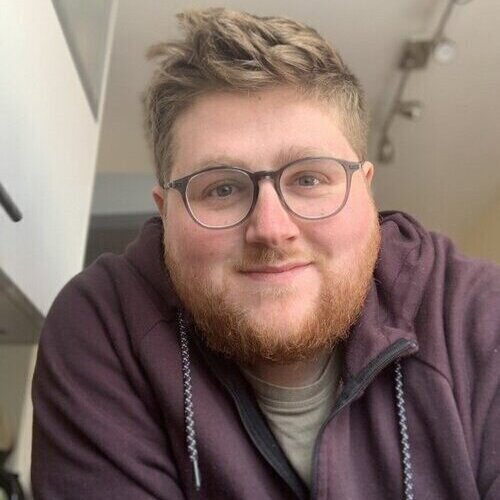 David Imrie
Mathematics (PGDE)
"Joining the PGDE Mathematics programme during the year of COVID-19 has been an experience I won't forget in a while. It's definitely been a journey but Strathclyde have been amazing at keeping us all informed and have transitioned very well to online and blended learning and teaching. Instead of sitting in large lecture theatres of 100s of fellow students we find ourselves in massive Zoom calls and breakout groups masterfully led by enthusiastic module tutors who you can tell have spent hours adjusting their lectures and teaching styles to this new way of life. Studying from home all the time isn't really a massive adjustment for me because it's the setting that I studied for my undergraduate and other courses I have participated in. As a cohort, we have used social media to our advantage so that we can all stay connected, share our ideas and try to get to know each other as we undoubtedly will need each other more and more as the course progresses. The tutors and students alike all accept that this is the new normal for a little while but we are all looking forward to meeting and collaborating together in person. This experience has given us all a new perspective on teaching that we may not have been able to have otherwise and it's undeniably proven that even when things go completely wrong there is still something for us to learn."
Melanie Quince
English (PGDE)
"I didn't expect to be starting my PGDE in the midst of a global pandemic! It has been an interesting start to the journey, we haven't been on campus at all yet, so everything we have done so far has been online. Our Induction via Zoom had a few technical hiccups but once those were sorted out things went very smoothly! It's clear that the Strathclyde School of Education team care deeply about providing us with a quality remote learning experience. My home is very busy so finding a quiet space can be a challenge but tutors have been very supportive about all of our individual circumstances and we're having a lot of fun as well as studying hard for this very intense and challenging course."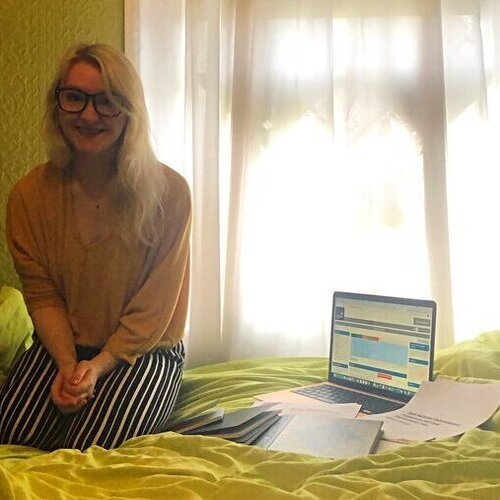 Heather Waugh
English (PGDE)
"I really couldn't have asked for a better experience starting at the University of Strathclyde post-lockdown. The staff at Strathclyde have been excellent; nothing has been too much and they have gone above and beyond to ensure that the students feel supported. They keep a strong social media presence and have been on hand to answer all of my questions. Meeting the other students has been very straightforward. Our timetable is very clear and includes a new level of flexibility that I never expected which is a huge advantage for adapting to the 'new normal.' I've adjusted to working from my room quite quickly; it saves me the time and money I'd normally spend going to Glasgow and the library is available if I need it. The Zoom sessions are relaxed and provide a positive learning environment and I feel very encouraged by the staff running my course. We've had lots of information on health and wellbeing which has really helped me to develop a good routine throughout my blended learning experience. Everything I could possibly need is available on MyPlace or through the website. In a way, I feel like I've gotten to know everyone even better than I would have on campus. Everything is totally different to how we expected but it's opened up an avenue of new conversation which includes everything from coursework to showing off our favourite coffee mugs! The university has even hosted virtual social events, so I've never felt like I was missing out on the social aspects of being a student. Ultimately, I'm really glad I chose to study at Strathclyde because the university has taken all of the changes in its stride to provide a fantastic learning experience for its students."