Social work & social policy

About us
What we do
Our research and expertise contribute towards responding to challenges in society by shaping policy and practice.
We have partnerships with national and international agencies and are involved in a range of international projects, funded by UK research councils, governments, charities and international funding bodies.
We host the Centre for Excellence for Children's Care and Protection (CELCIS), the national centre funded by the Scottish Government. The centre assists local, national and international agencies in improving the lives of looked after children and enhancing research, knowledge and practice.
The school is also home to the Centre for Youth and Criminal Justice (CYCJ) - Scotland's national youth justice centre. CYCJ is funded by the Scottish Government and supports improvement in youth justice, contributing to the realisation of better lives for individuals and communities.
Research & study
Our high quality, international-level research focuses on:
children & young people (with specialisms in looked-after children and vulnerable young people in care, and youth and criminal justice)
health & wellbeing (both historical analysis and contemporary areas such as mental health and older people)
citizenship & communities (with a focus on ethnicity, identity, disability and sustainable communities)
criminal & social justice
All staff, postgraduate and doctoral students in the School of Social Work & Social Policy are based in the newly refurbished Lord Hope Building, in the University's city centre campus. The building includes our state-of-the-art HaSS Graduate School.
For further information on postgraduate courses and opportunities to conduct doctoral research, please refer to the subject area pages or email our postgraduate team.
Careers in social work
Local authorities
From main-grade workers to directorate level, social workers will be providing, managing, purchasing and organising services to people with very diverse needs across the life span in different settings.
Voluntary organisations
Social workers are found at all levels of voluntary organisations. They usually work in relatively specialist ways with children and young people with particularly challenging needs, as well as vulnerable adults, especially those with learning disabilities and those affected by mental health issues. Settings and contexts vary as widely as in local authorities.
Qualified social workers are increasingly valued. Promotion and career development opportunities are excellent.
Private sector
Social workers are often at senior practitioner and management level in the private sector. Services focus on home-based support to vulnerable adults and residential services to older people as well as foster care support and services to people with offending histories.
Central government
Experienced social work managers advise and support ministers in monitoring and developing social work services.
Social work regulation
A range of independent bodies, like the Care Inspectorate and Scottish Social Services Council employ social workers at a senior level to lead and manage registration and inspection of social work services to ensure they meet appropriate standards.
Careers in social policy
Many social policy graduates go on to have successful careers in the public sector, working in local or central government, analysing and formulating policy or managing key services.
Graduates often take up roles in the private sector, including working for:
charities
NGOs
social enterprises
Some graduates return to further study at Masters and PhD level.
Where to find us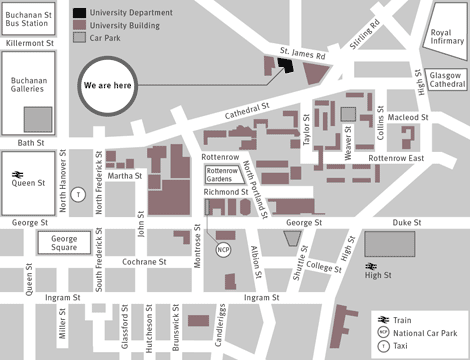 51% of our research output rated world leading