Scottish Graduate Fair

Virtual fair
5 October 2022, 10am to 4pm
You can also register via the CareerFair plus app:
Search for AGCAS on either the website or App and The Scottish Graduate Fair 2022 – Virtual will appear
Create an Account to officially register for the event. (If you already have a profile, please ensure it is updated).
Once registered, you can view what companies are attending, favourite the exhibitors you wish to speak with and start booking appointments once they're open.
Booking appointments will open in September.
Please note, any CV/resumes uploaded will be shared with recruiters that you have appointments with.
Also, please note that by signing up to attend this virtual fair, you're agreeing to Career Fair Plus Terms & Conditions and the Organisers Terms and Conditions, these can be found below.
All information relating to this year's fair can be found below!
Using the CareerFair Plus app
You can attend the fair via the web browser or download the app. On either platform you can start looking through the employers that will be attending the virtual fair without needing to create an account.
When you're ready to start booking appointments, you will need to create an account and build your profile. Watch this video to see how to create an account. Please note, if you have used Career Fair Plus before, you just need to ensure your profile is up to date, you do not need to create another account.
Make sure you build a complete profile that includes your CV/resume as well as other relevant information. This is the profile employers will see when you make appointments to meet them, so you want to make a good impression!
Please note, any CV/resumes uploaded will be shared with recruiters that you have appointments with.
By registering to attend this fair, your data will be shared with Career Fair Plus and the Fair organiser; Strathclyde University Careers Service.
Booking Appointments will open in September!
As you browse the employers who will be at the virtual fair, you can book appointments to meet with them virtually.
Tap on the employer you are would like to meet with and then tap 'Virtual Appointments' to see the schedules they have available
Select the schedule that you're interested in; employers may have multiple schedules
Select a time that works for you, and hit 'YES' to book the appointment slot
If you are not signed in, you will be prompted to sign in. If you have not yet created an account, you must do so at this stage in order to schedule appointments.
Don't forget, appointments are first-come, first-serve, so if there is an employer you want to meet with, don't wait to book an appointment with them!
Open the app and log into your account
Make sure you can access your virtual appointment bookings
Check the interaction type listed under the schedule for each of your appointments. You can view this by clicking through to the schedule, and checking under the employer name, as below: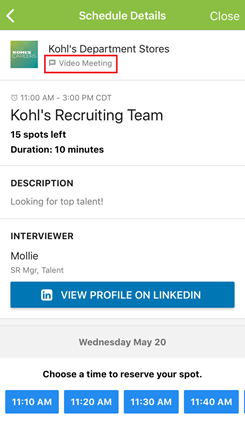 For Schedules using Career Fair Plus's in-built Video Meeting Rooms
Important: If the interaction type says Video Meeting, the appointment will take place on our integrated video meeting platform. In this case, please click Join Meeting from one of your scheduled appointments and test that your video and microphone are working. You may need to grant/request permissions if it is the first time you are using the platform.
For Schedules without Career Fair Plus's in-built Video Meeting Rooms
Make sure you check the interaction type, so you know what to expect on the day of the fair, whether it's a phone call, or an external link (Zoom, Skype). If there are additional instructions provided on the schedule for candidates, these might give further details about how you can expect the recruiter to contact you.
You're all set to go! On the day of the fair, follow these three simple steps:
Log into the app and sign into your account
Access your virtual appointment bookings and meet with employers
Use the app to help you track your appointments and make notes
Here's a video walk-through of a virtual fair using our in-built video meeting rooms to help you better prepare!
Please see below instructions on how to use the apps navigation bar to ensure you haven't missed out on anything.

Employers tab:

Here you will be able to see who is exhibiting
You can favourite employers who you want to book appointments with
Click the Blue "Meetings box" on an employer's name to see what times they have available
Choose who you want to speak too and select a time

Fair Prep tab:

You will find information on how to help you prepare for the fair for both before the fair and on the Day fair information.

Meetings tab:

Here you will find all of the appointments you have booked. Please ensure you remember these timings and do not miss them.

More tab:

Other resources are available here such as:

Announcements – check these to see if the organiser has provided information about the fair
Career Fair 101 – Dress the Part, Attendee Conduct, Practice your elevator speech and Impress the recruiter
Check for Updates – Good to refresh the app to see if there is anything new and important.
Please note any details, CV/resumes uploaded will be shared with recruiters that you have appointments with.
Group meetings & 1-on-1 meetings
Group meeting schedules are intended as the virtual equivalent of a 'walk-up' at a physical fair. These Group Meetings can be used for general chat, Q&A sessions or mini company presentations. Attendees can sign up for both a "group meeting" and individual scheduled appointments.
Group meetings
No specific time slot to choose
Can join the meeting at any point within the meeting times
Possibility of other candidates being in the meeting or speaking with multiple recruiters
Designed to be less formal meeting, like a drop-in session at a physical event
1-on-1 meetings
Must choose the desired time slot
Must join at your designated time
You'll be the only candidate during this meeting
Can be more formal given the private nature of the interaction
Top tips for attending the fair
Before the fair
View exhibitors: Check the exhibitor list and Guide and make note of the exhibitors whom you wish to visit.
Research exhibitors: Find out what this employer does, their products, their graduate opportunities any recent announcements. Use websites to check the nature of their vacancies and their entry requirements. Think of sensible questions to ask.
Be mindful: Think about what you are going to wear. Formal/ smart causal is recommended
Starting conversations: Think about how you will introduce yourself confidently to exhibitors. Avoid generic questions like "what do you do?"
Practice "promoting yourself": Think about what sets you apart from the competition. What are your key strengths and skills? What are the key things you would like others to know about you? Provide examples.
CVs: Take CVs if you wish, but it is not vital. Some recruiters may not take them as they require on-line applications. If you do take a CV - be prepared, make sure there are no typos and that all your details are clear and accurate.
Take notes: Of exhibitors answers or their names in case you need to follow up later.
On the day
Talk about yourself:
be positive
talk about why you're interested in the company and what you can bring to it
When asking questions:
be enthusiastic
take notes so you don't forget what the exhibitors are telling you
After the fair
review your notes
follow up on any contacts you've made
confirm any dates discussed (e.g. closing dates, company events)
connect with any contacts you made on LinkedIn
visit the Careers Service at your University for further help
Terms & conditions
Please follow these terms and conditions:
never record or screenshot a video meeting with an employer without their consent
be Mindful of professional etiquette and use appropriate language - avoid slang and jargon
dress appropriately and ensure your background surroundings are appropriate
registering to attend you agree that the Organiser reserves the right to remove and/or cancel your appointments from the Virtual Fair if the Organiser, in its sole discretion, determines that your participation or behaviour create a disruption, offence or hinders the Virtual Fair or the enjoyment of the Virtual Fair content by other attendees
by registering to attend this fair, your data will be shared with Career Fair Plus and the Fair organiser; University of Strathclyde Careers Service
please review Career Fair Plus Terms and Conditions & Privacy Policy before registering for this event