Creative writing

Contemporary fiction & non-fiction
Andrew Meehan's debut novel One Star Awake was longlisted for the Desmond Elliott Prize, the UK's most prestigious award for debut novelists. It has been described by the Irish Examiner as 'mesmerising, inventive, heart-wrenching, and brilliantly realised. The most interesting debut of 2017.'
Andrew's new book, The Mystery of Love, a unique and moving reimagining of the relationship between Oscar and Constance Wilde, was published by Head of Zeus in February 2020.
Andrew's short fiction and essays have been published in:
The Stinging Fly
The Moth
Banshee & Winter Papers
Town & Country: The Faber Book of New Irish Stories, edited by Kevin Barry
Rodge Glass is a widely translated novelist, short story writer, editor and critic. His debut novel No Fireworks, published by Faber and Faber, was nominated for four major awards including the International Dylan Thomas Prize and the authors' Club First Novel Award. His subsequent novels, Hope for Newborns (Faber) and Bring Me the Head of Ryan Giggs (Serpent's Tail) have been highly critically acclaimed. He is also Somerset Maugham-award winning author of the biography of the great Glaswegian polymath Alasdair Gray. His book, Alasdair Gray: A Secretary's Biography, published by Bloomsbury, is a critical text for those interested in Gray, and Rodge has continued to write about the writer and artist in the ten years since that book was first published. He is currently the Convener of the 2nd International Alasdair Gray Conference, which will be hosted by the University of Strathclyde in 2021. More on the various upcoming Alasdair Gray projects.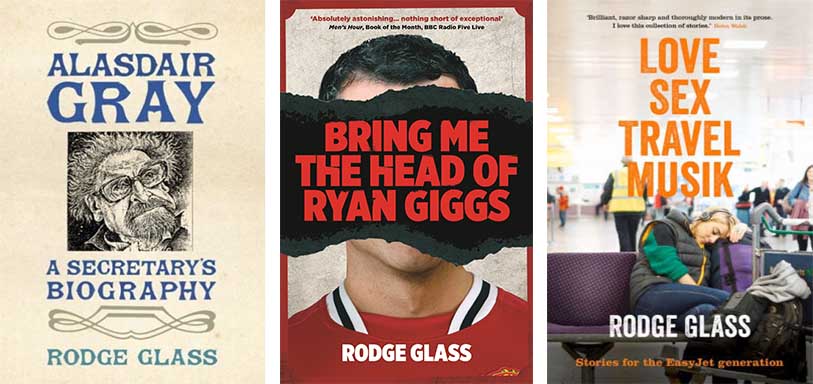 Rodge is also an experienced editor of novels and short stories, and has a long history with Strathclyde, having first come to Glasgow to study here as an undergraduate in 1997. Rodge's short fiction and essays have been published in:
Gutter Magazine
Edinburgh Review
The Paris Review
Being Dad: Short Stories About Fatherhood
He has also written for the Guardian, Scotsman, The List, The Herald and appeared on Radio 4's Open Book, as well as Edinburgh Nights (BBC2), The Art of Winter (BBC4), The One Show (BBC1), Radio Scotland and BBC Radio 5 Live. His various novels and short stories have been translated into Italian, Serbian, Romanian, Albanian, Hebrew, Spanish and Danish. He is a regular contributor to Glasgow's Aye Write Book Festival and the Edinburgh International Book Festival.