Continuing Professional Development in Photonics
24-28 April 2017 (registration will be closing shortly)

The Department of Physics at the University of Strathclyde is offering a new course in Photonics.
This course is aimed at providing a foundation in laser fundamentals and applied optics for professional physicists and engineers working in an industrial environment.
The course will be taught by leading scientists from the University of Strathclyde. Based on the REF 2014 GPA Scores, Times Higher Education ranked Strathclyde as number one in the UK for Physics research.
Course aim
To provide the foundation for the understanding of concepts in laser-based technologies and optical systems through:
Explanations of the underlying physics
Case studies of selected components and devices
Practical introduction to lens design
Who should attend?
The course is aimed at those with a physics or electrical engineering background working in an optics or photonics based R&D environment.
It provides a foundation for newcomers or a refresher course for more experienced professionals.
Course content
Subjects to be covered include:
Laser fundamentals
Gaussian beam fundamentals
Lens design
Non-linear optics
Fibre optics
Optical metrology
Optical semiconductors
Course structure
The course runs for one week (24 to 28 April 2017) with:
Twelve 1.5 hour lectures/discussion sessions
Two 3.5 hour laboratory sessions
In addition to this a number of extra-curricular presentations will be held by staff from the University on current research topics such as:
Quantum technology
Laser-plasma accelerators
High-resolution optical microscopy
Introduction to Fraunhofer UK
These lectures will run 5-6.30pm most evenings.
Agenda
Time
Monday
Tuesday
Wednesday
Thursday
Friday
9:00-10:30
Fundamentals of lasers 1
Lens Design 2
Modern solid state lasers
Optical semiconductors
Fibre optics & communications
10:30-11:00
Break
11:00-12:30
Lens Design 1
Lab intro
Fundamentals of lasers 3
Fundamentals of lasers 4
Optical microscopy
12:30-13:30
Lunch
13:30-15:00
Fundamentals of lasers 2
Lab 1 Practical laser experiments & computational lens design


Excursion


Lab 2 Practical laser experiments & computational lens design
Metrology in space
15:00-15:30
Break
Break
15:30-17:00
Lenses in cinematography
Feedback session/departure
17:00-18:30
Extra-curricular presentation
Extra-curricular presentation
Extra-curricular presentation
Venue and Accommodation
The event will take place within the Department of Physics at the University of Strathclyde, which is within walking distance of Queen Street railway station and Buchanan Street underground station.
Entrance for the event is from Taylor Street
Google Maps
Department of Physics,
John Anderson Building,
107 Rottenrow East,
Glasgow, G4 0NG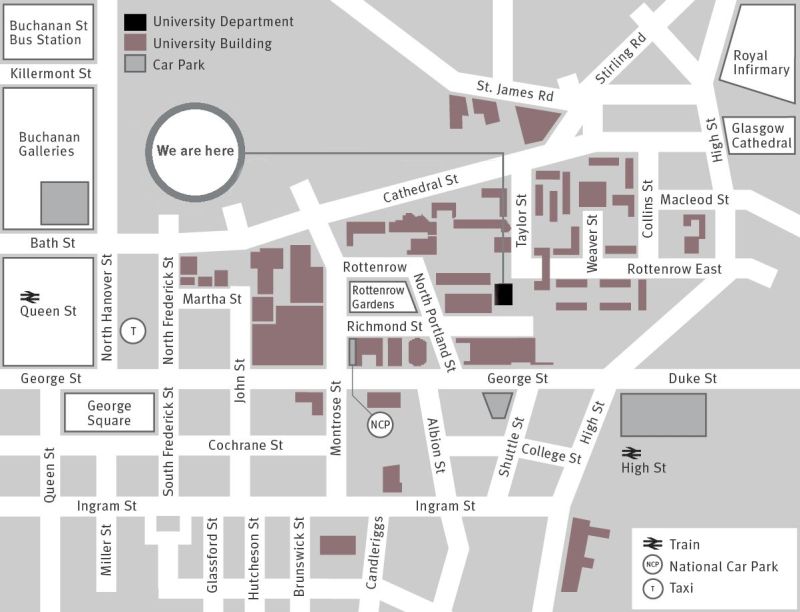 This city centre location provides a choice of accommodation starting in the region of £50 per night.
Fee
£1500 (10% reduction for registrations before the end of February 2017) including lecture notes and material, lunch/refreshments & an afternoon excursion & dinner.
Registration
If you are interested in attending this course please register here. Registration will be closing shortly.