12th FluoroFest International Workshop commemorates 40th Anniversary of IBH, the Department's first Spin-out Company
The Glasgow FluoroFest was attended by over 100 delegates from 14 countries, who networked with, and listened to a diverse lecture program delivered by world-renowned speakers, student flash talks, vibrant poster sessions and experienced hands-on instrument training. Papers from the workshop will be published in a special issue of the IoP journal Methods and Applications in Fluorescence.
Held at the Village Hotel Club in Glasgow, on the 24th to the 26th of April, 2017, the Glasgow FluoroFest was opened by the Principal, Sir Jim McDonald. The event focused on many of the hottest topics in instrumentation and techniques, life sciences and biomedicine, nanotechnology and materials.
Glasgow was chosen for the 2017 event to commemorate the 40th anniversary of the founding of IBH, the first spin-out company from our Department and one of the earliest companies to originate from a Scottish University. The company was founded in 1977 by Robert Imhof, David Birch and Tony Hallam in order to exploit their novel ideas for Time-Correlated Single-Photon Counting (TCSPC) in what was then the embryonic field of fluorescence lifetime spectroscopy. The three had previously worked together in the Physics Department at Manchester University, obtaining doctorates in this area in the 1970s. IBH joined HORIBA in 2003 to form HORIBA Jobin Yvon IBH Ltd and together have become the market-leader in fluorescence spectroscopy.
Launched in Prague in 2009, FluoroFest has spanned the globe and is now one of the premier events in the field. HORIBA is the main sponsor of FluoroFest, and this year was joined in sponsorship by SUPA, Institute of Physics Publishing and QuantIQ.
The HORIBA Group of worldwide companies, headquartered in Kyoto, Japan, provides an extensive array of instruments and systems for applications ranging from automotive R&D, process and environmental monitoring, in-vitro medical diagnostics, semiconductor manufacturing and metrology, to a broad range of scientific R&D and QC measurements.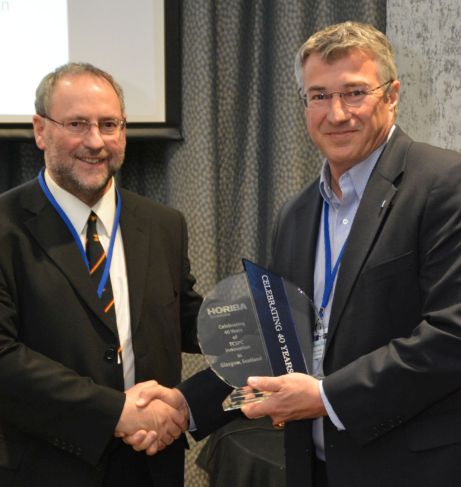 Cary Davies of HORIBA Scientific presents Professor David Birch, Chair of the 12th FluoroFest International Workshop, with a "Lifetime Achievement Award" marking 40 years of TCSPC innovation at IBH.
April 2017