CLL tutor shortlisted for the Jackson's Painting Prize
Our talented Art Tutor, Elaine Woo MacGregor's painting, 'Portrait of Nan Shepherd: Camping by the Wells of Dee' has been shortlisted for the Jackson's Painting Prize!
Elaine was shortlisted out of 8949 entries by a panel of six expert judges, all leading figures in the art community.
Elaine explained 'The artwork here is a part of my portrait series of six 20th Century Writers. The painting was inspired by passages in the book 'The Living Mountain' and the life of Nan Shepherd. I was interested in finding out about individual writer's demeanour and habits, as well as their sense of place, and how this shaped their identity and the themes in their work. With the break in our project due to the pandemic, I reflected on what it means to be a creative during these times, our relationships with natural and urban environments and our sense of 'self'. My paintings are not direct portraits of writers' per se; they are my interpretations of narratives and the essence of their character. The ideologies of these Writers are intriguingly relevant to our present-day challenges.'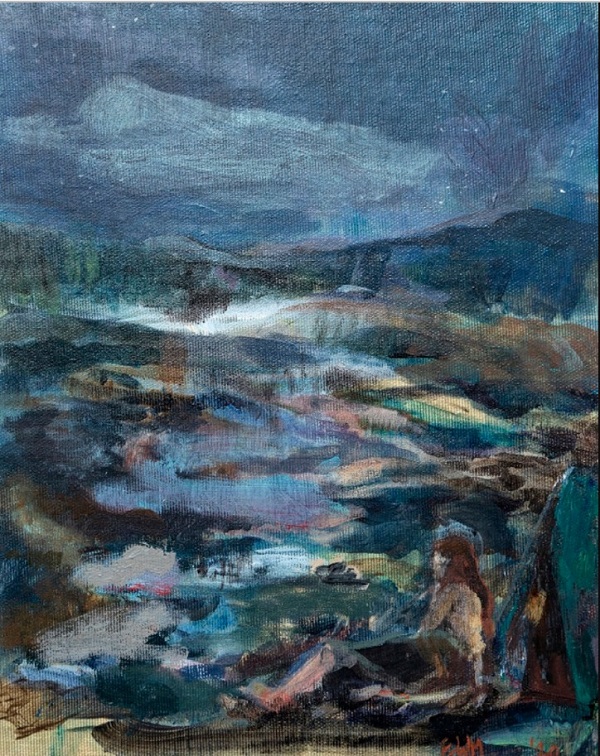 The 8th annual painting competition, supported by Jackson's Art Supplies, encourages artists of all ages and abilities to submit their work for the chance to win. As a part of the competition, you can register and vote for your favourite painting for People's Choice Award.
Well done Elaine!
Elaine's painting is under Portrait/ Figure category. If you'd like to vote, click here.