Rachel Jamieson
Centre for Lifelong Learning Online Student
What first attracted you to taking a course at the Centre for Lifelong Learning?
I wanted to learn Italian as I had been going to Venice on holiday. I searched for a course when I retired and found leaning with people of my age was a good idea. I also enjoyed going in to the University environment.
What do you enjoy most about your recent online course?
The course was enjoyable in different ways. I live overseas and it was amazing to log on to the class from my dining room. I was able to concentrate well using headphones with no distractions.
It was so lovely to be able to continue my learning in my new home and see classmates from previous classes I had attended too.
Have you taken part in face-to-face classes at CLL? How did the online classes compare?
I have been studying Italian at CLL since 2012 and have had the same teacher for the most part. Also, my classmates and I have had such a wonderful experience, we've all kept going to the same class. I really enjoyed the online class – I felt like I could really focus on my learning and it felt very natural too.
Have you used Zoom before? Did you find it an effective teaching tool?
I had used Zoom socially. It is very effective for online learning in that only one person speaks at a time and you can concentrate without distraction.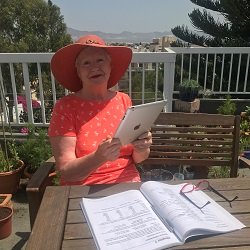 What are your thoughts on the range of programmes on offer?
I am sure that anyone planning to take a course will find what they are looking for at CLL. It is just so diverse and really fun to browse what is on offer and very easy to apply online.
What advice would you give to a prospective student looking to take a course at CLL?
I feel it is very important to keep the mind stimulated in retirement and I would urge anyone who wants to study in later life to have a look at the wide range of courses on offer at CLL.
I always wanted to study with like-minded people of similar age so CLL fits the bill perfectly. I have been very happy learning Italian and about Italian culture and have made some very good friends studying together over the last 8 years. We have been lucky to have made friends with Italians of a similar age, exchanging visits and we have all become dear friends. This was thanks to our tutors organising contact with our Italian 'twins'. We are in very regular contact and we get together from time to time. All this happening because I decided to join a class at CLL. I can't recommend it highly enough.