Viv Gee
Tutor, Stand-Up Comedy
Did you hear the one about….?
20 years ago Viv Gee was asked to give a one-off talk about stand-up comedy to Strathclyde University undergraduates by Susan Triesman, director of the Ramshorn Theatre. At that time, the theatre was part of the University. Excellent feedback from this talk resulted in a 10-week evening class the following session, and since then Viv has never looked back, providing 20 years of practical training in this multifaceted skill.
Because stand-up is about real life, personal opinions and outlook, almost everyone can nurture their sense of humour. It's a case of knowing where to find the laughs. This can be through exaggeration, surprise, a play on words, imitating, observing and voice intonation. Physicality can also contribute and it is not necessarily what you say but how you say it that counts. Viv has become an expert in helping people develop their own style and then provide direction.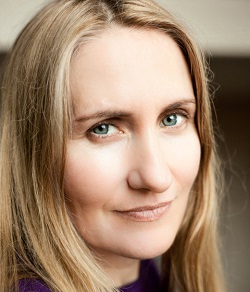 "Comics needs to be believable, even if they are talking about the unbelievable. They have to connect with an audience which has to believe that they are worth listening to. Some sentences can have three punch lines if you have some well-placed pauses", she explains.

Currently, Viv is resident MC at Glasgow's Yesbar weekend show. She has also performed in gigs across the globe from Bangkok to Los Angeles. In 2014, Viv won the Award for Outstanding Contribution to Comedy at the inaugural Scottish Comedy Awards. "There's a thriving Scottish comedy scene that is also part of the UK and worldwide scene. The comedy sector is just a big dysfunctional family really", she says with a laugh.

A high proportion of Viv's students go on to successfully put their newly-learned skills into practice at comedy venues. Viv mentions a few by name who are building reputations on stage, radio or TV - Richard Gadd who won the coveted Edinburgh Comedy Award; Des Clarke who presents Children in Need; Des McLean who won the Sony awards on Radio Clyde; Susie McCabe the Scottish Comedy award winner who is currently touring Australia and who will bring her one-woman show to the Kings Theatre next year. Jay Lafferty is on BBC's Breaking the News and Mark Nelson headlined the Comedy Store in London.
Viv's classes continue and who knows what talent she has still to nurture. Other students have benefited from learning the communications techniques required by a stand-up comic without necessarily doing it professionally. Viv says that she is always delighted to hear direct from ex-students how the stand-up class has improved confidence at work, helped people deliver more humorous wedding speeches and even made their writing or lecturing more engaging.
So, did you hear the one about the stand-up comic who fell through the floorboards? She was just going through a stage...!
Viv's classes can be viewed in MyCLL (right of screen) under 'Screen, Stage & Stand-up'.