Knowledge is power
The Library is open 24 hours a day every day, in the lead up to exams.
Our Andersonian Library houses around one million print volumes, and you'll have access to over hundreds of thousands of e-books, databases and ejournals.
Our collection is spread over five floors, throughout which you'll find a range of study spaces with wifi access so you can use your own laptop or there are computers for your use. There's also a cafe where you can grab lunch during the day, throughout the week, or a small take-away coffee shop where you can fuel up on caffeine during those long study hours.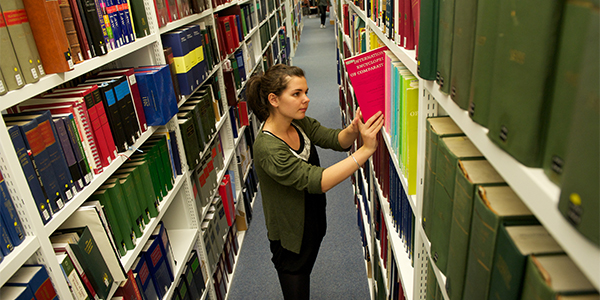 Borrowing books
Borrowing books at Strathclyde is an easy process. You can check books out using our automatic scanning service and books with standard or one week loans are renewed automatically. You'll receive an email notifying you if someone else has reserved the book which means you'll need to return it.
If you borrow a book with a short loan (24 hours), you'll need to return it by closing time.
Studying in the library
The library has more than 2,000 reader places, 614 computer places, and wifi zones where you can use your laptop to work. There are spaces spread across all five floors which are split into group study, quiet study and silent study areas.
There's also a small take-away cafe just outside the library, in the foyer of the Curran Building, where you can grab a coffee during those long study hours!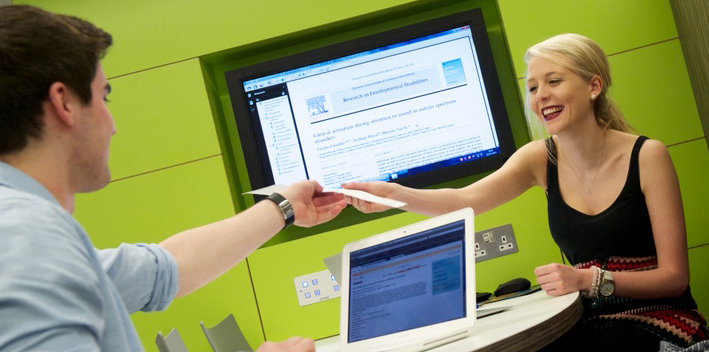 Bookable group rooms
We have 14 rooms in the library which can be booked out for your use. You can book the rooms online or by using the tablet-style keypads at the doors to each room. They're bookable up to 2 weeks in advance.
Accessibility
Our staff can also help you fetch and carry books if you need it.
Disabled parking is available next to the Curran building, where the library the based. There are lifts for wheelchair access at both the front and back entrances of the library. The doors at the front entrance are automatic and we have an internal lift which is available to all floors if you need it. There are accessible toilet facilities on all levels of the library.
Guide dogs are welcome in the library and fixed and portable induction loop facilities are available.