When Strathclyde graduate Fergal Mackie and James Swinburne came up with the concept of a cutting-edge and affordable user-friendly robotic prosthetic hand, they assumed the project would be a part time concern as engineering careers beckoned.
But when the world went into lockdown just months before they graduated from university, the pair focused all their energies on their design.
Metacarpal, the company they co-founded to create a robotic hand for amputees, has since gone from strength to strength and has secured investment and grant funding totalling £270,000, including £30,000 from the Strathclyde Inspire Entrepreneurs Fund (SIEF).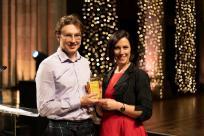 The spin-out also triumphed in the Converge Awards, winning a runner up prize in the Create Change Challenge of £10,000 in cash and £4250 business support.
Stephen Young
The investment from SIEF came via the Stephen Young Entrepreneurship Awards programme, created as part of a £50 million donation to Strathclyde by the charitable foundation of alumnus, entrepreneur and philanthropist Dr Charles Huang PhD. The Awards provide funding in the form of prizes, grants and investment to early-stage entrepreneurs, supporting the work of Strathclyde Inspire in in transforming lives, supporting the economy and nurturing entrepreneurship.
The award is presented in memory of the late Professor Stephen Young, former Head of Strathclyde's Department of Marketing and Dr Huang's supervisor and mentor during his PhD studies.
But Fergal, 25, who is now the company's Managing Director after co-founder James decided to pursue a career in product design, says had it not been for lockdown, they may never have had the opportunity to focus on the project.
Strathclyde Inspire
They took part in the Strathclyde Inspire Accelerator programme, which helps staff and students fast-track opportunities through the provision of advice, funding and bespoke training opportunities.
It was there they came up with the 'Aurora' hand, when their research revealed that some of those with limb loss found electronic devices difficult to operate. There are significant benefits to omitting electronics, yet there have been no major improvements on body-powered designs since their inception more than a century ago.
Fergal, a graduate from Strathclyde's Design Manufacturing and Engineering Management department, said: "After graduation we both thought this would be a project in the background as we got industry experience, but with the advent of COVID-19 we were both put on furlough. We were getting paid and had time on our hands and barely anyone was recruiting in the product design sector, so it made sense to put all our attention on this project and we turned this into our focus."
Fergal took on two jobs, including as delivery driver to help fund the project, and said: "All I was doing was working on the company and working at night delivering food, it was a flexible job but draining."
But by July 2020, Metacarpal had incorporated, and they entered the Converge challenge, which supports news businesses in collaboration with universities, in a bid to win funding.
Business plan
Fergal said: "We didn't win but it gives you a lot of training and forces you to make a business plan, which really pushed us. Strathclyde Inspire also gave us all the training we needed to develop the business and we were learning along the way."
Fergal, who has been awarded a Royal Academy of Engineering Enterprise Fellowship of £50,000, said: "We initially thought of going down the route of developing an electronic, robotic hand.
"They look really cool but the feedback we were getting was that although the electronic ones could do lots, the operation is difficult for amputees. We tested the hand with a friend and knew we were onto something when he was ecstatic and liked the idea."
Prototype phase
Bionic or myoelectric hands have changing grips and can do a lot of the functions of a real hand, but when actually using this device, it can be slow and unreliable, hampering the utility.
More than half of UK users prefer body-power, with split hooks being the most popular devices.
Although simple and only a single grip, these are reliable and easy to use – making them the most functional device currently.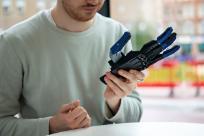 Metacarpal's unique product uses body-power technology and is also able to switch between grips like a bionic hand, uses the same cosmetics and is cheaper to buy and quicker and easier to use.
The Metacarpal product is currently in the prototype phase but the investment enables the company to take the product from proof of concept through to commercialisation and launch, with the next step to expand the design team.
The business has now also been accepted onto the prestigious Higgs Centre Incubator programme, which comes with grant funding and a premises.
Fergal said: "This will allow me to bring in a team to help design the product. Recruiting will be a different dynamic for me as I'm in charge, but the designers will have the specific expertise and experience and understand about bringing a product to market.
"It's been hard work but I'm excited as to what's ahead and I'm thrilled to be among the first recipients of a Stephen Young award."
Professor Sir Jim McDonald, Principal and Vice-Chancellor at the University of Strathclyde said: "The Stephen Young Entrepreneurship Awards support the University's work in transforming lives, supporting the economy and the next generation of entrepreneurs who are tackling some of the biggest challenges we face as a society.
Metacarpal is a very worthy recipient of a Stephen Young Entrepreneurship award and I know they will benefit hugely.
In addition to the Entrepreneurship awards, Dr Huang's donation will support the construction of a new building, to be named after him, in Strathclyde's Technology and Innovation Zone with Glasgow City Innovation District, and the creation of The Stephen Young Institute for International Business and The Stephen Young Global Leaders Scholarship Programme.
Anne Henderson, Investment Manager at the University of Strathclyde, said:
Metacarpal is a truly innovative company with a mission to provide an affordable body-powered prosthetic hand, which ultimately improves the long-term health outcomes for users.
"Based in Scotland but with global ambitions, Metacarpal aligns perfectly with Strathclyde's aim of being a socially progressive, technological university.
"We support high growth potential, innovative companies capable of delivering global, positive and inclusive impact with responsible investments and look forward to working with Fergal and his team through the next stages of the ambitious journey, alongside co-investors and partners."
The company investors also include Gabriel IS and Scottish Enterprise.