Sustainable Strathclyde

Jump!
Jump is an instrument that facilitates positive change by empowering staff to put University's values and goals into action.
Sustainable Strathclyde's Team Jump is an engagement programme that rewards Strathclyde students and staff for taking part in a range of sustainability and wellbeing related actions. There are prizes for best teams and individuals, including vouchers and donations to charities.
One of last year's top points earners said:
Jump made me more aware of my impact on the environment and provided me with tips on health, recycling and sustainability. It was fun and engaging and brought out my competitive streak I didn't know I had.
To date, through Jump, Strathclyders have collectively:
avoided the emission of over 120 tons of CO2 which is taking the University much closer to meeting our emissions reduction targets
saved 15,990 disposable cups
avoided 3,012 journeys to Edinburgh-worth of carbon emissions.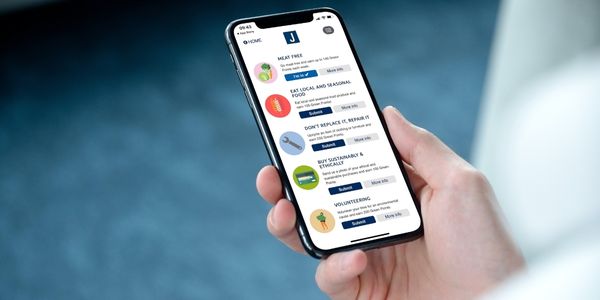 How does it work?
Once you've activated your account, you can start taking part in the activities to earn Green Points and win great prizes!
Jump has six sustainability & wellbeing themes. Students and staff can check out activities they want to participate in and earn points for doing so:
energy and water
travel
resources
engagement
wellbeing
lifestyle.
Teams are competing against other teams, and individuals also compete against each other for Green Points and rewards. Individuals and teams earn top positions in the leaderboard and contribute to their sustainability and wellbeing aspirations by submitting actions relevant to them.
There are plenty of activities to pick. These include active travel, using your KeepCup, attending an event or reporting your exercise, and many more. Taking part in each activity earns participants Green Points, getting them closer to winning prizes.