REF 2021
The Research Excellence Framework (REF) is the UK Government's system for assessing the quality of research in UK Higher Education Institutions (HEIs). The most recent results were published on 12 May 2022. The REF assesses the overall research quality profile of an institution and is done across three pillars:
Outputs - which looks at the quality of research publications and other research outputs
Impact - which assesses the benefit of research beyond academia
Environment - which looks at the supporting research environment
The REF results are used by the four national funding councils to determine the value of the research block grants awarded to HEIs throughout the subsequent assessment period.
How did Strathclyde do in REF 2021?
The University of Strathclyde has performed very strongly in the latest national assessment of the UK's higher education research profile. Almost 90% of research produced by the University has been rated 'world-leading' or 'internationally-excellent', and Strathclyde has the second-highest impact quality profile in Scotland. More on our detailed REF 2021 results
REF 2021 results
Why is REF important?
As an ambitious, internationally-recognised technological university that puts sustainability at the heart of everything that it does, Strathclyde strives to deliver world-class research which is making a positive impact on the world. We aim to ensure that our work submitted to the REF contributes to wider global agendas and leaves no one behind. At the Centre for Sustainable Development (CfSD), we are committed to helping Strathclyde assess, achieve, and improve the impact of our research, ensuring that our work supports the urgent attainment of the UN Sustainable Development Goals, taking into account the balance of the environment, society and the economy.
Strathclyde REF Impact & the SDGs
We examined our 58 REF impact case studies against the 17 UN SDGs, by both their primary focus and the secondary interlinked areas where they were also having a positive impact. We recognise that influencing one SDG is inextricably linked to others both positively and negatively and we wanted to understand the wider impact of our work.
Of the focal SDGs of our impact case studies, only three SDGs out of 17 SDGs were not represented (SDG 6 – Clean Water, SDG 15 – Life on Land, and SDG 17 – Partnerships). However, these SDGs were included in our work when examining the secondary impacts and wider influence of our research, particularly partnerships, without which any impact would have been impossible.
Unsurprisingly, many of the focal SDGs were aligned with their relevant faculties:
Strathclyde Business School (SBS) leading in Economic Growth (SDG 8)
Engineering leading in Clean Energy (SDG 7)
Humanities & Social Sciences (HaSS) focusing on Peace and Justice (SDG 16) and Quality Education (SDG 4)
Science leading the way in Health (SDG 3) and Innovation (SDG 9)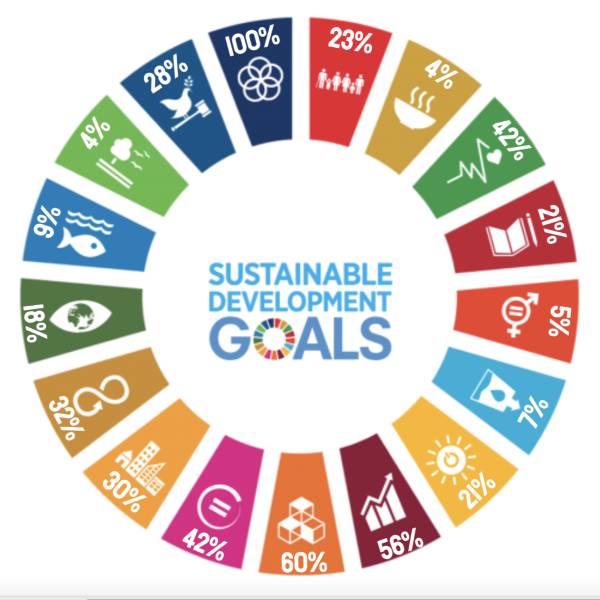 The above image shows the UN Sustainable Development Goals as a wheel outlining the percentage of the 58 REF impact case studies which relate to each specific SDG:
SDG1 No Poverty = 23%
SDG2 Zero hunger = 4%
SDG3 Good health and wellbeing = 42%
SDG4 Quality education = 21%
SDG5 Gender equality = 5%
SDG6 Clean water and sanitation = 7%
SDG7 Affordable and clean energy = 21%
SDG8 Decent work and economic growth = 56%
SDG9 Industry, innovation and infrastructure = 60%
SDG10 Reduced inequalities = 42%
SDG11 Sustainable cities and communities = 30%
SDG12 Responsible consumption and production = 32%
SDG13 Climate action = 18%
SDG14 Life below water = 9%
SDG15 Life on land = 4%
SDG16 Peace, justice and strong institutions = 28%
SDG17 Partnership for the goals = 100%

Sustainable Development Goals.

Centre for Sustainable Development.
Partners in achieving impact
Partnerships were key to our successful impact case studies, with over half including two or more academic contributors, and at least three non-academic partners. For example, Strathclyde Business School had 17 recorded international partnerships in one project (Improved Patient Outcomes through Evidence-based Decisions with both Scottish and Global Health Organisations), while Humanities and Social Sciences and Science submitted projects which had 63 and 30 international partners respectively. The work of our REF 2021 case studies spans partnerships and engagements across six continents.
Looking forward
So now the REF 2021 has been completed, can we put our feet up? No! We will build on these successes and look towards the future. We recognise the need for urgency in this Decade of Action and will continue to strive towards impactful research which helps to inform the rapid changes we need if we are to tackle the complex and wicked challenges associated with sustainability across the globe. To find out more about the work of the Centre for Sustainable Development and the wider University visit our centre's web pages.