Background
Kolkata is India's third largest city. It suffers from some of India's worst air pollution, with adverse health impacts for over 70% of its 14 million inhabitants. This burden falls disproportionately on poorer vulnerable communities, and without intervention is predicted to become much worse over coming decades. The Cleaner Air for Kolkata project aimed to make an initial study of the main opportunities to improve air quality in Kolkata using an inter-disciplinary approach to assess the feasibility of tracking, tracing, and monitoring air quality using newly deployed satellite systems that offer higher resolution air pollution data. The main objectives were to:
evaluate sensor-based air pollution monitoring systems in high concentration environments using mobile peripatetic static measurements and calibrate monitors against reference instruments
investigate the use of Sentinel 5P satellite data, and other sensor systems, to understand and monitor air pollution in Kolkata
build relationships in India that create unique opportunities for innovative research that has significant relevant real world impact
Beneficiaries
The population of Kolkata, India
Collaborators & partners
UK
Institute for Future Cities
Civil & Environmental Engineering, Mechanical & Aerospace Engineering, University of Strathclyde
India
Department of Civil Engineering, Indian Institute of Technology, Kharagpur
The Bengal Chamber of Commerce and Industry
Kolkata Clean Air Campaign (Environment Conservation Society)
Department of Environment, Government of West Bengal
Sustainable Development Goals (SDGs)
Of the 17 United Nations Sustainable Development Goals, this project targeted primarily:
goal 13: Climate Action aiming to take urgent action to combat climate change and its impacts
goal 3: Good health and well-being of the population of Kolkata
Impact achieved
During the project, relationships with the West Bengal Pollution Control Board and researchers at the Indian Institute of Technology (IIT) Kharagpur were successfully established. Field work was conducted with students from IIT Kharagpur, building good partnership and relationships between the University of Strathclyde and IIT. Furthermore, air pollution monitoring equipment was shipped for capacity building of the local research team of IIT Kharagpur to develop ongoing collaboration between air quality research in Scotland and in India.
The evaluation of sensor based air pollution monitoring systems was carried out over several days of sampling in the city of Kolkata, in high concentration environments, reaching >250 µg/m3 on several occasions. Firstly, as mobile peripatetic measurements along a stretch of road and secondly, as mobile measurements across the city. The calibration of portable pollution monitors using co-located portable instrument vs. reference instrument measurements was attempted near a governmental monitoring site.
The Sentinel 5P satellite data was found to be easily accessible. However, difficulties in reading the data and analysing it were encountered.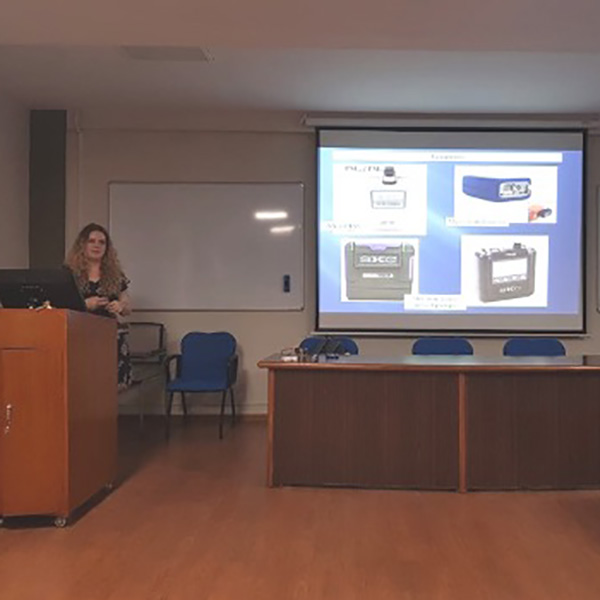 Researcher from the University of Strathclyde giving a lecture at the Indian Institute of Technology, Kharagpur to establish relationships
Challenges & lessons learned
The main challenge and issue encountered at the start of the project was transporting air pollution monitoring equipment from the UK to India. Therefore, a restricted set of instruments were used for the initial fieldwork, thus causing many delays and forcing changes to data collection planned prior to arrival in India.
Secondly, permission to undertake field work in the city lead to delays in starting data collection. Upon arrival for fieldwork, permission paperwork was required to enable sampling and to gain access to certain sites. This took a lot more time than anticipated and letters from the West Bengal Pollution Control Board, the Police and the IIT Kharagpur were required, thus further delaying the start of the field work. This should be kept in mind for further research to allow time either prior to arrival in the country or at the start of the field work to get the required permission paperwork finalised.
Thirdly the weather presented challenges. The fieldwork was conducted during the monsoon season which presented specific challenges. The very high temperatures and humidity made fieldwork difficult and it wasn't possible to sample for long periods of time in order to prevent heat exhaustion. Also very heavy rains and thunderstorms made planning and carrying out fieldwork difficult.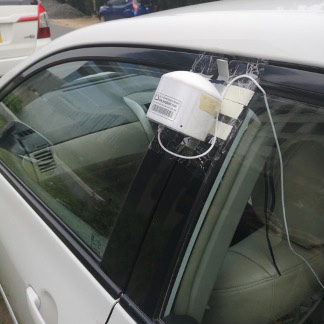 Instrument set-up for mobile measurements throughout Kolkata