UN Sustainable Development Goal (SDG) 7: Affordable and clean energy
Background
Close to one billion people in the world today live without access to electricity. The consequences are far reaching – affecting health, education, living standards and quality of life of many of the world's poorest and most vulnerable communities.
The Energy for Development VIP4SD project offers undergraduate students from all faculties the opportunity to put their useful learning into practice to advance the targets of the UN's SDG 7 – affordable and clean energy.
Students are tasked with designing and developing human-centred technical solutions that seek to deliver energy access to these communities across the Global South.
Impact achieved
Students conducted field trials of different technologies in The Gambia and Rwanda. They developed a prototype design tool automating the design of village minigrids in Kenya; installed 14 solar PV installations across The Gambia and India; supported research in numerous research projects working on energy access in Malawi.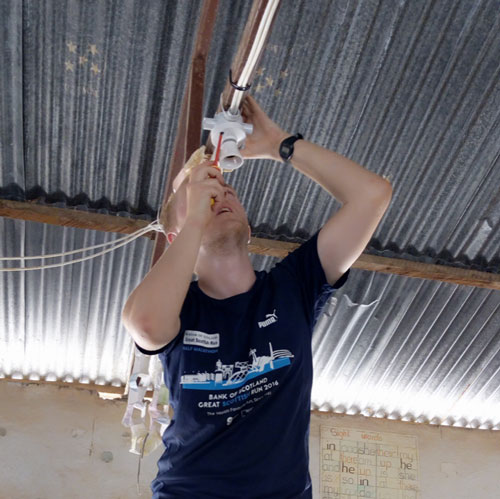 Meeting the Sustainable Development Goals (SDGs)
The primary SDG met from this project Goal 7: affordable clean energy.
Secondary goals met are Goals 3 and 4 (good health and wellbeing and quality education).
The World Health Organisation (WHO) report 4 million deaths per year due to indoor air pollution from indoor cooking over open fires and kerosene lighting.
90% of children in sub-Saharan Africa attend primary schools with no electricity, while 27% of village schools in India have no electricity. Our projects have completed two college solar PV installations in Tamil Nadu, India, and twelve school installations in The Gambia to help combat this.
Closer to home
By embedding Education for Sustainable Development in our Undergratuate curricula, we're also ensuring we meet this goal to "ensure [our] learners acquire knowledge and skills needed to promote sustainable development".
Challenges
The challenge and objective of the Energy for Development VIP4SD project team was simply that of SDG 7:
"Ensuring access to affordable, reliable, sustainable and modern energy for all."
However, achieving universal energy access that meets all of the criteria laid out in SDG 7 is particularly challenging given that those most in need of this electricity to improve education, health and living standards live in the poorest and most vulnerable communities in the world.
Ensuring any solutions aimed at improving energy access fully recognise, represent and integrate the needs of the community at all stages of its design and development is critical to the success of any solution.
Beneficiaries
Strathclyde students through an enhanced student experience
rural communities and small businesses of developing countries (The Gambia, Malawi, Rwanda, Kenya, India).
Collaborators/Partners involved
NGOs, Governments, Research Consortiums, SMEs.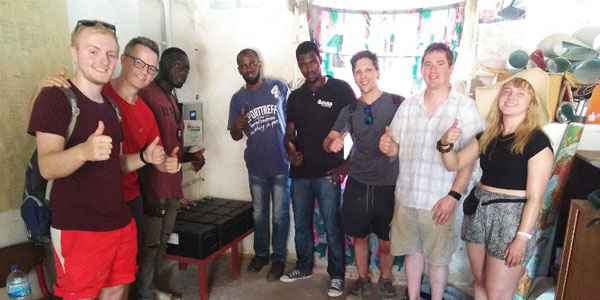 Student testimonials
"Joining the S4D VIP in my second year was by far one of the best decisions of my university career. It provided me with a fantastic environment to develop both as a student and more widely, as an engineer. The VIP structure allows for an unbounded leaning style that is diverse, collaborative, and encourages creativity.
"Undertaking high level research projects in Year 2, I developed valuable research and development skills. I was later delighted to discover that this put me ahead of time in terms of research and study, when carrying out my 4th and 5th year projects. Adding to the long list of benefits, I was also able to work closely with Lectures, Researchers and PhD students - an invaluable experience to learn.
"The highlight had to be the opportunity to travel to Tamil Nadu. Spending time in rural India I was able to see first-hand how the work we were carrying out could make a big difference.
"If I could give advice when considering the VIP4SD - it's 'do it'."
Martin McFadyen
"The VIP was a fantastic opportunity to develop new skills whilst collaborating with students from other faculties and working on solutions which have the potential to change people's lives for the better."
Calum Watkins