Images of climate innovation
Land cover mapped by Space Intelligence
Managing Landscapes for net zero, his is where our Carbon Mapper service comes in. Here we use a market-leading combination of satellite data, combining 3D information from LiDAR and Synthetic Aperture Radar satellites with colour information from optical satellites, with our unique ecology-aware machine learning algorithms, to produce continuous maps of forest carbon.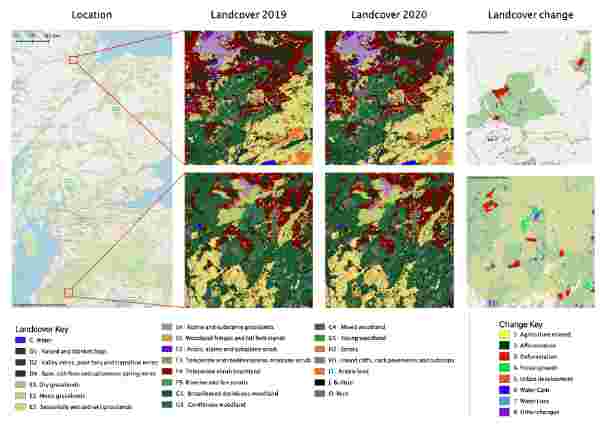 SLAM MAP Scotland-wide landcover maps aim to enable nature-based solutions to climate change. Space Intelligence is an Edinburgh startup business in the space and satellite sector. Space Intelligence supports investors in nature-based solutions, providing assurance for project development and monitoring, ensuring delivery of climate benefits.
We do this by providing information on land cover, analysing habitats and above-ground carbon storage across the world. We work with governments, NGOs, and large multinationals to provide trusted information backed by world-class science.
Entrant: Murray Collins , University of Edinburgh
Copyright: OpenStreetMap
Collaborators: Space Intelligence Ltd
Links