Images of climate innovation
Where is the cleanest air?
Computer simulations can predict how air quality will respond to future changes. The image shows pollution levels across the West Midlands with hotspots around Birmingham (in the centre) and Coventry (on the right), and around the road and motorway network. Net Zero policies can encourage electric vehicle use; model simulations like these determine the air quality co-benefit and which communities will benefit from clean air.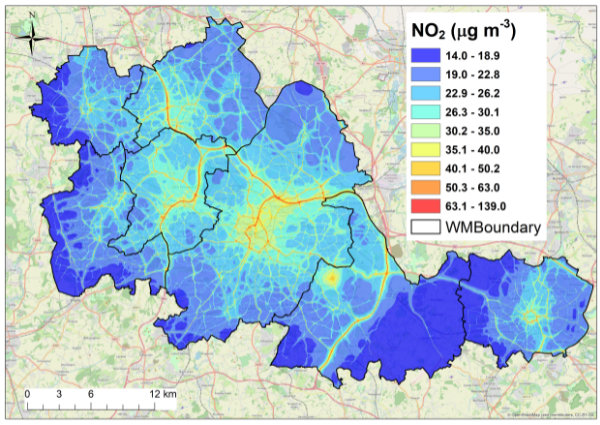 Road transport petrol and diesel-powered vehicles are a major source of air pollution in many UK towns and cities and a significant carbon source. Of the two key air pollutants harmful to human health, nitrogen dioxide gas (NO2) in towns and cities is dominated by diesel vehicle emissions, while transport also contributes to concentrations of fine particles (PM2.5).
Poor air quality gives rise to some 34,000 excess deaths each year across the UK. Net Zero policy measures such as encouraging zero-emission vehicles (coupled with renewable energy generation) can reduce transport-related CO2 emissions, while also delivering significant air quality benefits. Research within the WM-Air project (Clean Air Science for the West Midlands) let by the University of Birmingham is working to quantify these benefits.
WM-Air researchers have developed a state-of-the-art, high-resolution air quality model for the West Midlands. This is being used to explore the impact of potential policy intervention scenarios on climate and air quality, which are being co-developed with external partners to inform local and regional policies. WM-Air is working with Transport for West Midlands, West Midlands Combined Authority and Local Authorities to model the potential air quality impact of strategies such as the #WM2041 net zero commitment.
The results from this work highlight the local air quality and health benefits from policies such as zero-emission vehicle roll-out, the Birmingham Clean Air Zone, local Low Traffic Neighbourhoods, active transport, changing fleet composition, and public transport electrification. They also allow us to ensure that policies reduce environmental health inequality, improving air quality for all communities, and so increasing acceptance of climate change mitigation policies.
Entrant: William Bloss , University of Birmingham
Copyright: Jian Zhong
Funding: Natural Environment Research Council (NERC); UK Research and Innovation (UKRI).
Collaborators: Dr Jian Zhong; Dr Xiaoming Cai (University of Birmingham); Cambridge Environmental Research Consultants Ltd (CERC); Transport for West Midlands; West Midlands Combined Authority; Birmingham City Council.
Links
Clean Air Science for the West Midlands: https://wm-air.org.uk/