Images of climate innovation
Cool crystals for green heat
As crystals grow from a liquid molten salt, they release valuable stored heat. Heating is a major source of carbon emissions, and improved heat storage technology is urgently needed to increase efficiency and open up renewable solutions. By controlling crystal growth, Professor Colin Pulham and his University of Edinburgh team have created advanced heat storage materials that now form the core of Sunamp Ltd's pioneering domestic heat batteries.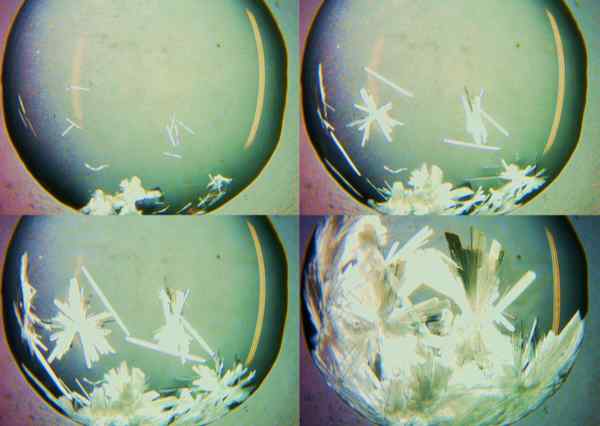 Heat-storage technology has a crucial role to play in decarbonising the heating and cooling sectors, which together contribute almost 40% of global energy-related carbon emissions.
Research by Professor Colin Pulham and his team at the University of Edinburgh's School of Chemistry has solved long-standing stability issues associated with Phase-Change Materials (PCMs) that are based on salt hydrates. By controlling how crystals form and grow in PCMs, new formulations have been developed that efficiently store and release heat on demand for over 40,000 heating and cooling cycles - equivalent to over 50 years of average heating use in a home.
With these new materials at their core, Sunamp has brought to market the world's first heat storage systems for use in homes. Their UniQ range of heat batteries store energy from almost any source as heat - making maximum use of local solar energy, heat pumps, and green electricity - and release it on demand to provide space heating and hot water in homes.
By providing highly efficient heat storage and increasing use of locally-generated renewable energy and off-peak electricity, Sunamp heat batteries reduce fossil fuel usage and save households money. Heat batteries installed in social housing properties across central Scotland have lowered energy bills and increased comfort for residents, thereby demonstrating the extremely valuable contributions that this technology can make in tackling fuel poverty.
Continued close collaboration, supported by new PCM formulations developed by Prof. Pulham's research group, is extending the world-leading Sunamp technology into new applications in the automotive, commercial and industrial sectors, and for domestic cooling.
Entrant: Colin Pulham , University of Edinburgh
Copyright: Colin Pulham
Funding: EPSRC; Sunamp Ltd; Innovate UK; ETP (Energy Technology Partnership)
Collaborators: Dr David Oliver, Dr Rowan Clark, Ms Emily Goddard, Ms Hannah Logan (University of Edinburgh); Mr Andrew Bissell (Sunamp Ltd); Prof. Chiu Tang (Diamond Light Source)
Links