Images of climate innovation
Optimization of a hydrogen-based zero-carbon building scenario
The image shows the Solar-Hydrogen Hybrid System proposed to feed the energy demands of a grid-connected building/campus to eliminate/reduce the carbon footprint associated with its energy consumption. This innovative system will accordingly contribute to reducing the building sector energy consumption carbon footprint. The implementation of this system would provide crucial contribution to achieving the 2050 net-zero carbon target.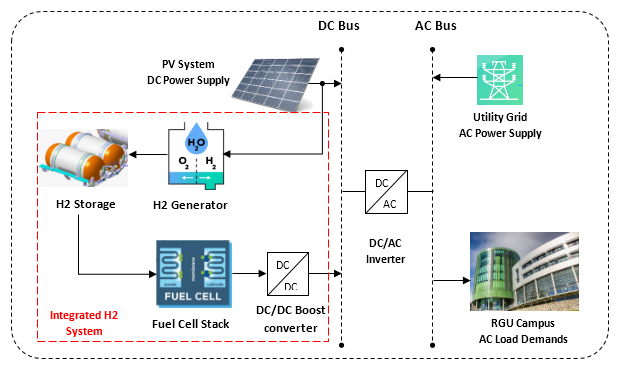 The ongoing growth in global energy demands and the associated catastrophic climate change has accelerated the need for setting net-zero carbon pathways. This project aims to employ green hydrogen as a pathway for empowering the low-carbon economy.
The project proposes a state-of-the-art hydrogen system with zero-carbon renewable energy carriers' scenario to meet the electrical load demands within grid-connected complexes/buildings, thus eliminating/reducing their carbon footprint.
The project work involves developing an optimization model for achieving the optimal sizing, cost, and energy management of the proposed Zero-Carbon Hydrogen-Based Grid-Connected Building Scenario so it could be replicated throughout the UK to minimize the building sector carbon footprint, thus contributing to the UK 2050 net-zero carbon emissions target.
The implementation/validation of the proposed project will be carried out on the RGU campus to support the University's ongoing campaign towards achieving the 2050 net-zero target.
Entrant: Dallia Ali , Robert Gordon University
Copyright: Dallia Ali
Funding: PhD studentship funded by Robert Gordon University (RGU)
Collaborators: RGU Estates (provision of data) and PURE Energy Centre.