Images of climate innovation
Reuse to Reduce
What's this about?
This image shows unwanted PPE coveralls from a global oil and gas company, that were destined for landfill, being reused in survival training centres. The dark reality associated with PPE usage, is the large volume of waste it produces, as often PPE is disposed of in an unsustainable way. As part of a project within a class at Strathclyde, over 800 coveralls were donated for reuse to survival centres based within Aberdeen, UK equating to an estimated total saving of 11,200kg CO2e.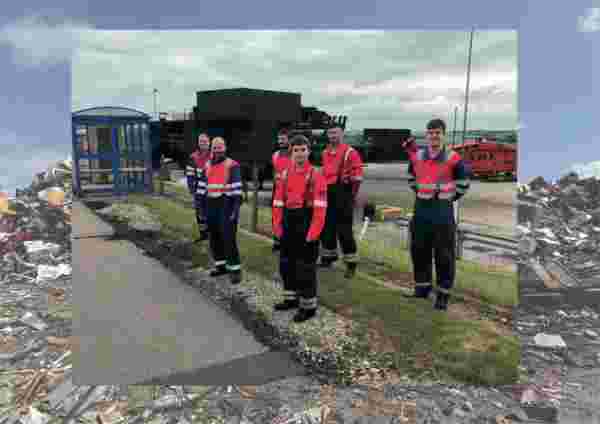 More detail about the research
This research focused on an environmental project conducted with TechnipFMC and their supplier Ross Safety and Survival to find a sustainable solution to PPE waste, in particular protective coveralls, generated within TechnipFMC. The solution developed involved donating used coveralls to survival training centres based in Aberdeen to help prevent waste within the company. As a result of health and safety, the coveralls were only allowed to be reused as an insulation layer. What started as an estimated 150 coveralls, eventually led to over 800 coveralls being donated due to demand from survival centres!
The findings of the research show the environmental success of implementing a reuse model for the coveralls and its relevance to the oil and gas industry. The task brought attention to the fact that there is a need for used/unwanted PPE (coveralls) within different organisations and that disposal should be the very last step in the PPE waste management process. 810 coveralls were donated for reuse within this project to five survival centres based within Aberdeen, UK equating to an estimated total saving of 11,200kg CO2e.
This solution is particularly innovative as it is the first to be implemented within TechnipFMC and can be applied as a tested and success proven model industry-wide. Additionally, due to the project's success, a modelled system and 4P methodology were created and implemented to ensure the reuse practice continues within TechnipFMC, ultimately minimising the companies waste generation. This project could be a source of inspiration, as it proves that there are organisations out there who would benefit from another organisation's 'trash'.
Entrant: Louise Thomson , University of Strathclyde
Copyright: Craig Ross - Aberdeen International Airport
Collaborators: Elsa Joao, Stuart Forsyth (University of Strathclyde); Alexandra Monteiro, Don Davies and Ruairidh Irvine (TechnipFMC); Dominika Skonecczna, Martin Ross (Ross Safety and Survival); Craig Ross (The Fire Training Department at Aberdeen International Airport); Ashleigh Sutherland (Array Training); Gavin Cardno (NUTEC); Julie Neish (Evolve); John Lumsden (Survivex).