Images of climate innovation
Are you living comfortably
Through photographing researchers in action (here testing thermal comfort), the artists show what cannot normally be seen. The University of Salford, in collaboration with Open Eye Gallery, invited artists McCoy Wynne to undertake a residency at Energy House, a research facility currently exploring retrofitting a Victorian terraced house. Making this research more accessible demonstrates how relatively simple changes at home can lessen the impact of climate change.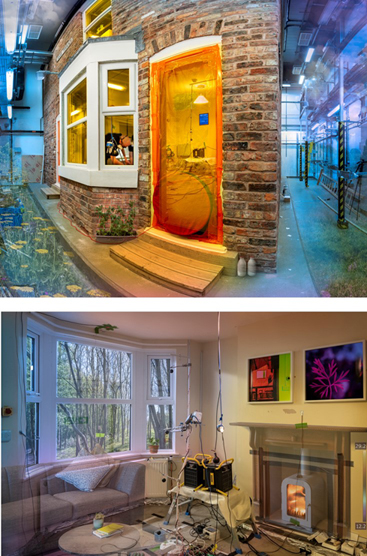 Energy House, at the University of Salford, is a research facility that contains the world's first, full-sized two-bedroom terraced house, built inside an environmentally controlled chamber. The chamber has the ability to achieve temperatures between -20 degrees centigrade to +40 degrees, thus being able to replicate environmental conditions of 95% of the world's population.
The facility is currently undertaking in-depth research into the efficiencies of an array of retrofit options on a Victorian terraced house. These include testing different types of insulation, as well as a variety of heating and how we use energy in our homes. The goal of this innovative project is to demonstrate to the general public how relatively simple changes in the home can lessen the impact of climate change.
By inviting artist McCoy Wynne to work with the scientists, the project deals with a serious issue that affects us all, in a way that is visually stimulating and easily accessible. Through photographing the researchers in action, the artists show what we cannot normally see. In Are You Living Comfortably the researchers are testing thermal comfort (air temperature in different areas inside a house). The strict laboratory conditions however have a dehumanising effect.
The artists tackle this by adding interior and exterior 'ghost' images, creating a domestic space that feels habitable, whilst showing the experiment. By putting artists at the centre of the study, it has created a new way of demonstrating this vital research into positive solutions to climate change to a wider audience. This image is one of a series that will be presented at Open Eye Gallery in Liverpool on the theme of Climate Emergency before entering the University's permanent art collection. The University is currently investing in a new, larger research facility, Energy House 2 which will open in 2022.
Entrant: Energy House Laboratories , University of Salford
Copyright: McCoy Wynne
Links
https://energyhouse2.salford.ac.uk/
https://artcollection.salford.ac.uk/collection/