Images of climate innovation
Constructing sustainable futures
This Ban Khamsamakkee School building serves as a model for ecological building. Its hybrid structure constructed from local, sustainable composite materials was designed through the Towards Change programme, developed by University of Strathclyde. The pilot programme aims to assist people to make the best use of local materials and resources to achieve sustainable living.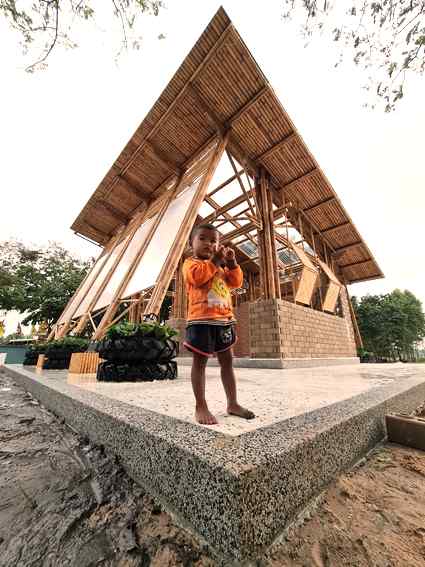 The concepts of energy-saving and environmental protection and combined with aspects such as hope, dreams, and faith to create a model building design that can balance the continually changing conditions of the world.
The key objective is to develop a visual process for evaluating the Archetype Project for the Agricultural Knowledge Centre for Sustainable ECO Community, which is located in Ban Kham Samakkee School, E-San Thailand. The researcher collaborated with local residents in E-San to develop new ways to promote sustainable development within the community. This is thus a project that is focused on enhancing environmental sustainability and self-sufficiency through the efficient use of interlocking bricks.
Interlocking bricks are hybrid structures produced using biomass waste material obtained from Pomacea Canaliculata or Cherry Shells, and this is being developed in the Krasang District in North-eastern Thailand. Moreover, local materials (i.e., bamboo) can also be used in model building, which highlights the community's ability to research, understand and analyse the properties of building materials in order to construct resilient buildings which produce low carbon emissions. In turn, this reduces fossil fuel consumption in daily life, the latter of which is largely increasing greenhouse gas emissions and negatively impacting climate change.
It is thus necessary to make efforts towards achieving sustainability and community technological innovations will play a vital role in reducing the consumption of fossil fuels and the production of waste and greenhouse gas emissions. For this reason, innovative low-carbon building design should be developed as soon as possible to promote energy-efficient buildings constructed from reusable materials. The present research thus aims to investigate the potential for communities to develop their own guidelines pertaining to low-carbon building construction and to enhance the production of local building materials within the community.
To achieve this, it is crucial to identify the most sustainable and environmentally-friendly building materials and to involve local community members as co-constructors, as this will inspire young people and other communities to appreciate the value of local materials and waste materials. Such materials can be used advantageously throughout the community.
Entrant: Runda Aduldejcharas , University of Strathclyde
Copyright: Runda Aduldejcharas
Funding: AC Wall Inter Group Company Ltd; Global Envi Consultant Technology Company Ltd; Home Mega Mart Company Ltd (Buriram); Buriram Steel Partnership Ltd; SCK Engineering & Tool Company Ltd; Krasang Karset Partnership Ltd.
Collaborators: Dr. David Grierson (University of Strathclyde); Wutinai Kokkamhaeng (Thailand Institute of Scientific and Technological Research); Suranaree University of Technology; Bamboo Forest School (Thailand); The Energy and Technology Centre (Thailand); Ban Kham Samakkee School (Thailand).