Images of climate innovation
Reimagining fossil-fuel spaces for Good
This image illustrates the innovative ideas staff and students at Edinburgh Napier University created to reimagine fossil fuel spaces for good. In partnership with SGN, we developed proposals to redevelop six sites on the themes of climate change adaption, biodiversity, and community well-being and inclusion. Our interdisciplinary team of scientists, creatives, businesses, and IT specialists collaborated to create unique and inclusive solutions to our climate crisis.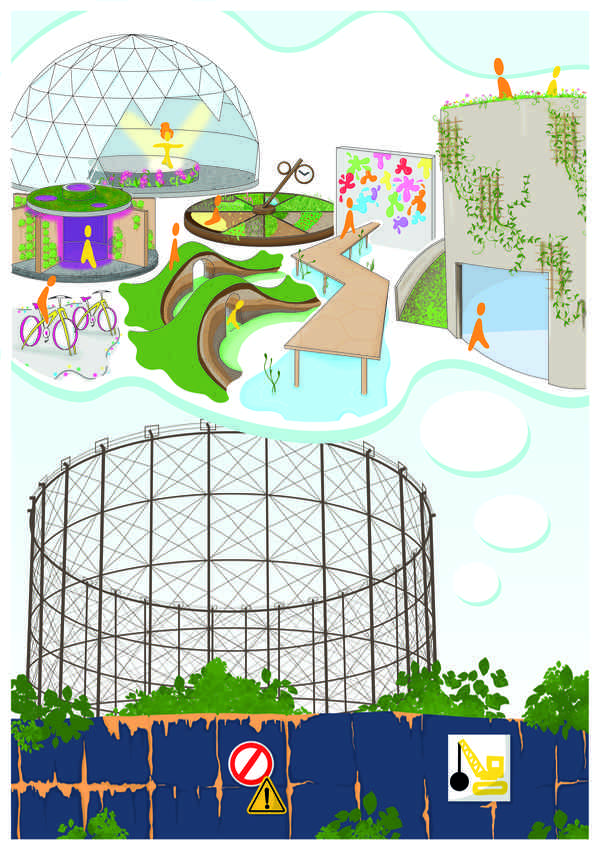 INTER is an Edinburgh Napier University collaborative research project in partnership with SGN to reimagine six fossil fuel sites in Scotland for good. SGN manages the gas network in Scotland and the south of England and owns many sites across the country. In partnership with SGN, an interdisciplinary team of staff and students reimagined these sites on the themes of biodiversity, climate change adaption, and community well-being and inclusion.
Academics and students from design, engineering, computing, applied sciences, and many more disciplines used research methodologies, design thinking, and community engagement practice to develop innovative and radical solutions to the climate crisis. The goal of the project is to repurpose these sites to increase biodiversity, offset carbon emissions and improve the health and well-being of local communities.
20 staff and 40 students from Edinburgh Napier University worked with SGN between January and May 2021 to research the realities of climate change and the loss of biodiversity. The project team tailored their proposals to meet the needs of local communities and factor in local biodiversity, sustainability, and vitally, off-setting carbon emissions. The concepts proposed range from wetland developments, allotments, badger housing, weaving hills and rainbow forests to vertical farming and a 'Pipe Dream' green pathway across the network. The project team developed detailed proposals and funding bids along with images, designs and scale models.
The scope of the proposals involves potential partnerships with supermarkets, Glasgow International Airport, local councils, and many other key stakeholders. There is potential to drive the concepts in various directions with grassroots community interventions, independent business models, and SGN fully funded environmental initiatives. SGN is now reviewing the research with a view to incorporate the proposals into a range of sites over the next 5 years to support achieving their environmental goals. INTER is a unique project, bringing together academics from a wide range of disciplines, collaborating with undergraduates to bring fresh and unexpected solutions to the climate crisis.
Entrant: Lindsay Morgan , Edinburgh Napier University
Copyright: Rachel Naysmith, Edinburgh Napier University, School of Arts and Creative Industries
Funding: SGN, HCI Skills Gateway and Edinburgh Napier University.
Collaborators: Ruth Cochrane, Lindsay Morgan and Rachel Naysmith (Edinburgh Napier University); SGN.