Well, I'm now into my fourth week of working from home (WFH) and we're officially in lockdown. To be honest, the official lockdown hasn't really changed all that much for me as I was already only going out for essential food shopping, and for exercise.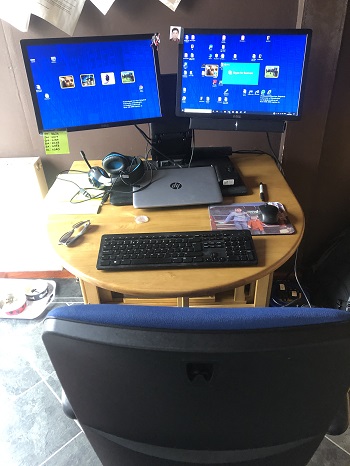 I think I have adjusted quite well to the situation. For the first few days I only had my laptop and was set up at the dining table. After only two days though, I realised that this may be longer term than I had initially anticipated. I knew the one small screen on my laptop wouldn't be ideal and my back was already starting to ache from sitting so long on a dining table chair. I made the decision to take one last trip to the office (thankfully prior to lockdown) and collect my full set up of two screens, docking station, and office chair. Not easy to squeeze into a three door Vauxhall Corsa but we managed!
Day to day I've settled into a fairly regular routine. I've been an early riser for many years, usually to go to the gym and have time for my commute. As that's no longer an option, you might think I'd enjoy a wee lie in. I'm sure I would, however I appear to have reached a certain age where my body just won't allow it! Well that's not strictly true, I usually get up around 5am, now it's nearer 6am. Does that count as a long lie? As I'm up so early, I start work around 7am meaning I finish around 3pm. This works well for me as I am not home alone. My boyfriend and two grown up sons are here too. None of them have been getting up before 9.30am so this gives me a good stretch of uninterrupted work time, before they start wandering into the kitchen for their breakfast. Little did they know that I'd recruit them as my 'office juniors', mostly to make a me coffee whenever I fancy one.
Personally, I find that sticking to my typical work routine is working well for me. I make a mid-morning cuppa like I do when in the office, I exercise at lunch time, and I have the same afternoon snack as usual (popcorn). I'm a creature of habit therefore I need a semblance of routine in my daily life.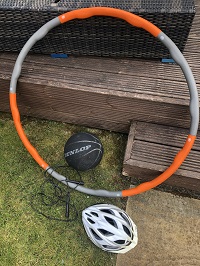 In truth, the thing I'm missing most whilst WFH, is other people. Don't get me wrong, I'm loving the extra time with my family, but I'm a social animal by nature. I need people (cue Barbara Streisand!). That's why I'm so grateful that we live in such a modern age of communication. I'm able to use Zoom to meet with my colleagues every morning, and to meet with staff from the wider university community throughout the day too.
My lunchtime exercise is also helped by social platforms such as Instagram and YouTube. Strathclyde Sport is hosting virtual classes every day at lunchtime. It almost feels like working out with all my friends, especially as I keep answering back every time the instructor speaks! When I finish work I like to use my daily allowance of outdoor time to get out on my bike or go for a run. I'm fortunate enough to have a garden with a basketball hoop, skipping ropes, and a hula hoop so I have plenty of variety from day to day.
When all is said and done, I'm finding WFH to be not only manageable, but fairly productive, and I've grown accustomed to my new situation. That said, I'll be glad when this is all over and I'm back on the bus headed to campus, back to see my colleagues in the flesh instead of online, and to my beloved Strathclyde Sport!
Stay tuned to our blog page to discover how my colleagues are coping, and perhaps get some top tips.